Always good talkers growth in mobile mobile phone ownership means Irish people now love to text.
The Irish love to talk and now text. In the hour before midnight on New Year's Eve, over two million text messages were sent. There were over 100 million texts sent over the Christmas period, almost 20 per cent more than the previous year. More text messages are sent in Ireland than in any other country in the world.
According to Cara Twohig from Vodafone, this is a result of a high mobile penetration in Ireland, competitive text message costs, and also,
A very young demographic that are incredibly mobile savvy.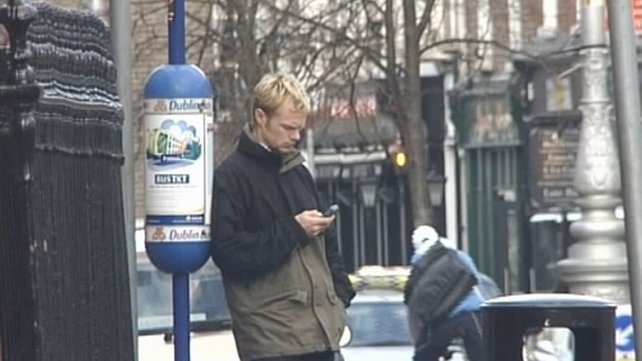 Man sending text message on mobile phone, Dublin (2004)
Small wonder then that telecommunications companies Vodafone and O2 made combined profit of €400,000 million in 2003. Ireland's love of the mobile phone shows no signs of abating. According to Edel O'Leary from O2, the Irish really are chatterboxes compared with our closest neighbours,
An Irish person speaks in the region of 188 minutes per month, whereas in the UK we know for example that they are averaging somewhere in the region of 107 minutes per month.
An RTÉ News report broadcast on 8 January 2004. The reporter is John Kilraine.