The IDA has persuaded a range of foreign owned companies to operate their businesses in Ireland.
The Industrial Development Authority (IDA) is the government agency established in 1949 to attract foreign investment into Ireland. In an era of restrictions on imports and economic protectionism, its aim was to develop and support a new model of export-led business and enterprise in Ireland.
Incentivised grant schemes and support from the IDA encourage foreign businesses to set up factories and production plants in Ireland.
There have been many successes, but the agency has also attracted criticism regarding one of its failures. Having received £1 million in grants from the IDA, the Potez Aerospace factory in Baldonnell, County Dublin, went into liquidation in this year, with the loss of 150 jobs. Its factory in Galway, which manufactured heaters, closed some years ago.
Their failure has brought home in a striking way, the risks of gambling on foreign enterprise.
However, many other factories established with the help of the IDA are still going strong. From ball bearings to fish processing, the range of industries encompasses textiles, clothing, and goods such as hair curlers, sticky tape, car aerials, and vegetable sacks.
While some workers are unionised, some are not. Pay rates differ for men and women, which is the norm in 1968. The factories keep people living and working in rural towns and villages.
The Liebherr plant in Killarney is the IDA's biggest success story to date. Founded in 1959, it employs 429 people and is one of 11 Liebherr factories. The 120 cranes manufactured there each year are exported to the international market.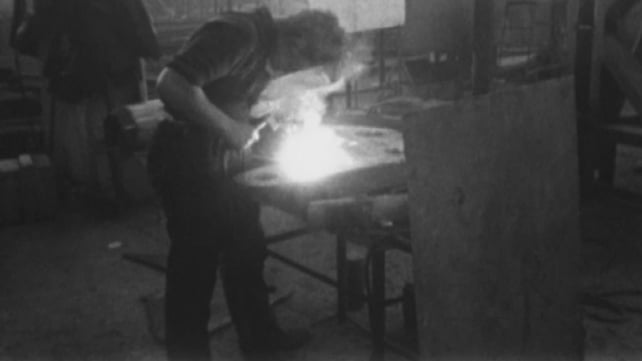 Worker in Liebherr plant, Killarney, County Kerry (1968)
The option of factory work has also been replacing traditional means of making a living. The Kenmare Hairdressing Company makes plastic hair curlers, and locals have taken up offers of piece work there,
Some of them found it more profitable than breeding turkeys.
Another enterprise performing well is the Killarney Hosiery Company. Part of the Pretty Polly group, it works 24 hours a day, seven days a week, and is the only factory in Kerry to do so. Employing 320 people, it has recently doubled its production space, manufacturing a product which millions of women around the world cannot do without,
Its exports this year will be more than a million thousand pairs of stockings and pantyhose.
'Work' was a fortnightly report on Ireland at work. The programme was introduced by Brian Cleeve and Patrick Gallagher.
This episode of 'Work' was broadcast on 4 December 1968.