Inside the Jacob's biscuit factory in Tallaght to see how products are made and packaged and the facilities on offer to employees.
The Jacob's biscuit factory in Tallaght, County Dublin provides valuable employment to the area, not only for those working in the factory, but also for suppliers of ingredients.
For every worker here, five are contributing from outside.
Jacob's workers in Tallaght enjoy on site services such as a subsidised canteen, as well as optical, medical and dental treatment.
According to the report, cream crackers were invented by Joseph Haughton in Dublin in 1885. Jacob's have become the most widely known cream cracker brand. When the crackers come out of the oven they are too hot to be packaged so they are cooled on a conveyer belt en route to packaging. Here they are wrapped by Swiss made packaging machines in greaseproof wrapping paper made and printed in Ireland.
Fancy biscuits such as Kimberly are also produced by Jacob's and these are assembled into tinned assortments such as Afternoon Tea.
The finished products are loaded into waiting delivery trucks for dispatch around Ireland and beyond.
'Exploration: In A Factory' was first broadcast on 20 February 1978. The producer and narrator is Norris Davidson.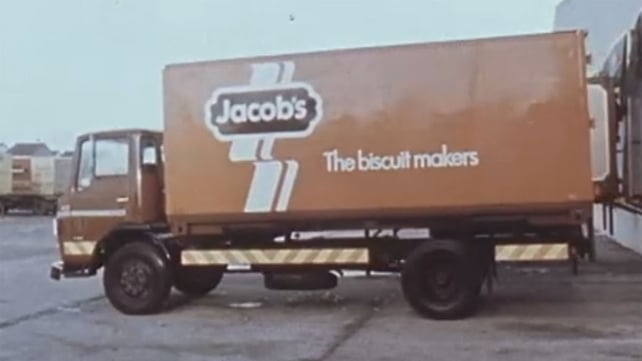 Jacob's Truck, Tallaght