The Independent Radio and Television Commission meets for the first time at Newbridge House in Dublin.
Minister for Communications Ray Burke told the Chairman Mr Justice Henchy and other members of the commission that he wants immediate action on the establishment of new radio and television stations.
The minister hopes to see a new national radio station in operation by spring 1989 and a new independent television station up and running by autumn 1989. In addition to the new national radio and television channels, the commission has also been charged with the responsibility of granting licences to local radio stations.
I'm convinced that by the spring of next year that we will have a national radio service and I am hopeful that by the autumn of next year we will have a national... a third Irish national channel on television.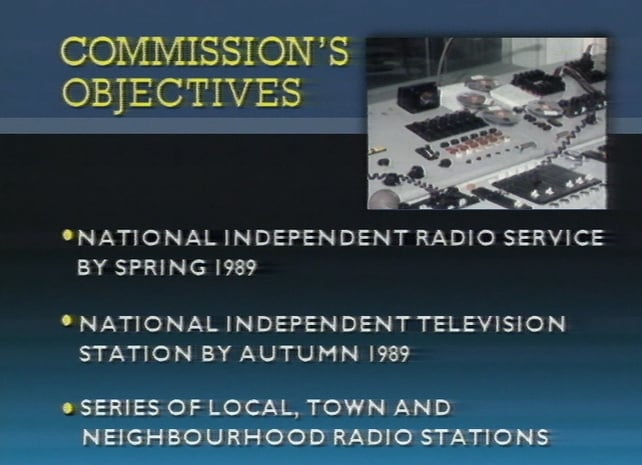 Independent Radio and Television Commission - Objectives (1988)
Pirate stations, like Sunshine Radio in Portmarnock, will have to be off the air by the end of 1988 if they want to be eligible to apply for one of the new licences.
A major publicity campaign is due to begin seeking applications from those interested in running the new services.
An RTÉ News report broadcast on 17 October 1988. The reporter is Charlie Bird.