Cuireann tús le Féile Rinn na Spáinneach i gContae an Chláir le comórtas agus céilí i Sráid na Cathrach.
Tralee has its Roses, but Miltown Malbay has its Darlin' Girl From Clare.
Inspired by the Percy French song of the same name, this contest opens the Spanish Point Holiday Festival. Now in its fifth year, the festival is organised by the Milltown Malbay Development Association.
Fourteen young women from Ireland and England, all with connections to the Banner County, arrive from Shannon Airport in a cavalcade of cars. Large crowds and bands were in Miltown Malbay to welcome the girls.
The festival has gone from strength to strength in a relatively short space of time, bringing thousands of visitors to Miltown Malbay. Micheál Ó Frighil, one of the festival's organisers, talks to reporter Breandán Ó hEithir about how the festival has grown. He acknowledges that while there is a need for more tourist accommodation in Miltown Malbay, he is enthusiastic about the festival's success, and hopes it will continue to grow,
Cuireann sé an áit ar an learscáil, mar a dearfá, agus cloisfeá é sna condaethe mórthimpeall, agus éiríonn thar bharr leis, agus le cúnamh Dé, i mbliana leis an aimsir sin, táim cinnte go mbeidh sé ar fheabhas.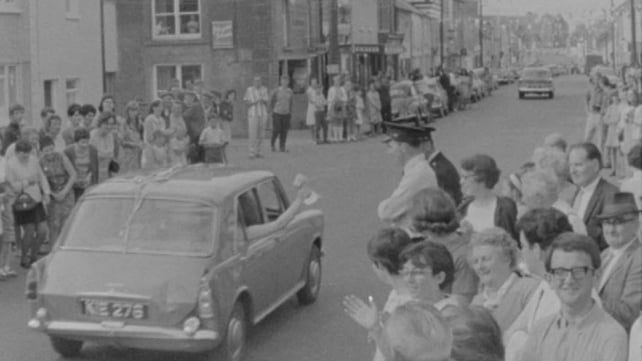 Darlin' Girls arrive in Miltown Malbay (1968)
The Darlin' Girls, who hail from Ennis, Quilty, Ennistymon, Tulla, Dublin, Birmingham, London, and Coventry, walk up the red carpet and receive their official welcome from the organising committee, and are presented to the crowds who have gathered to see them.
Chosen at contests held at dances at various locations in Ireland and England over the past year, they all have links to County Clare. What makes a Darlin' Girl? According to reporter Brendán Ó hEithir,
Ní dathúlacht amháin a cuirtear san áireamh nuair a bhíonn an Darlin Girl dá toghadh...Ar na rudaí a cuirtear san áireamh, tá teacht i láthair, cumas cainte, pearsantacht agus slacht.
While the judges deliberate, the village of Spanish Point hosts a barbeque, with sausages and crubeens on the menu.
Having eaten their fill, people return to Milltown Malbay, where the streets are alive with music and dancing. The winner of the Darlin' Girl contest is announced just after midnight - 22 year old Maura Barry from Kilmaley. She wins a trip to the US and will have the honour of representing her county at events over the coming months. The festival will run for a further two weeks.
This report for 'Féach' was broadcast on 31 July 1968. The reporter is Brendán Ó hEithir.