How cartoons became an essential element of the daily newspaper.
On 24 October 1896 the first cartoon strip appeared in a newspaper and for successful cartoonists, the comic strip has become a massive syndicated industry.
Many of the characters in the cartoon strips billions of us read each day have been around for years.
In 1896 cartoonist Richard Outcault was at the centre of a bidding war between two of America's great publishers, Hearst and Pulitzer. Outcault moved between the two publishers depending on who was prepared to pay the most for his illustrations. On 24 October 1896, Outcault's creation 'The Yellow Kid' featured in the world's first newspaper comic strip.
Today, strips like these provide newspapers with cheap content and readers with cheap laughs. Cartoonists in Ireland rely on magazines like The Phoenix as outlets for their work. The 'Ireland On Sunday' newspaper has recently introduced its own strip called 'D4', written by Graham Keyes. Graham's work is an expanded version of the single-frame gag.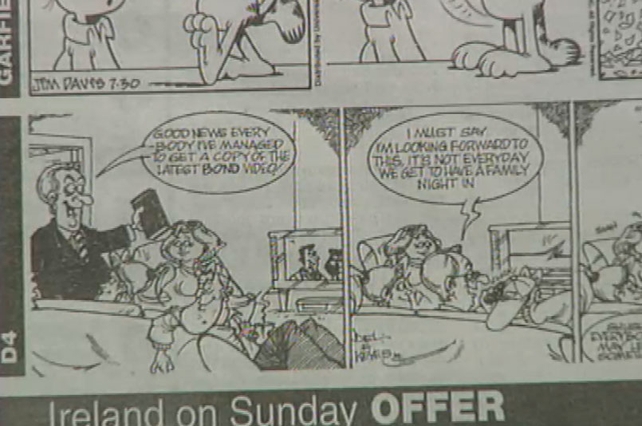 D4 Cartoon Strip
Stand-alone newspaper cartoons often make a satirical statement about issues of the day. They feature on the editorial pages beside the leader and opinion columns. Their importance is not underestimated.
For Gerry O'Regan, editor with the Evening Herald,
If it fulfills the objective of having humour and comment, it can work extremely well.
An RTÉ News report broadcast on 24 October 2002. The reporter is Anthony Murnane.