First passengers arrive at the new £7,000,000 terminal complex at Dublin Airport.
The modern Dublin Airport complex includes a new pavilion, a new terminal building, increased parking space and a new customs area. It replaces the old arrivals building that went into operation in 1940. The old terminal was expected to handle 100,000 passengers annually but growth in air travel has developed to the extent that passengers numbers handled at Dublin have grown to 2,000,000. Hence the need for a new building complex.
There's a total floor area of over 450,000 square feet and the entire building complex has a floor area of over ten acres.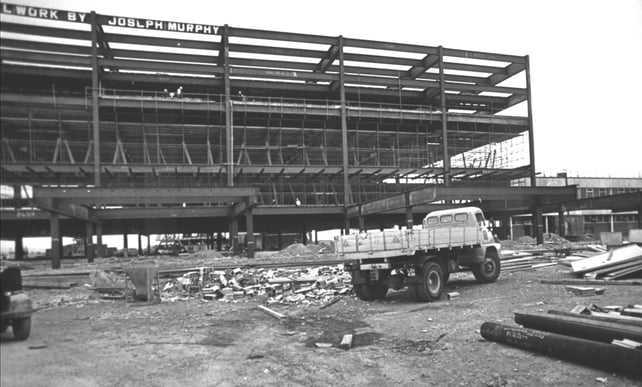 Work got underway in 1969 and the new terminal contains, handling facilities, lounges, customs, boarding gates, baggage claim areas, taxi stands, restaurants, concession desks, banks, shops and other services.
The new complex is four stories high and each level is served by a four lane roadway running the full length of the building.
Two spiral ramps lead to the car park on the two upper floors where 600 cars can be parked at one time. There is also a new parking area for aircraft.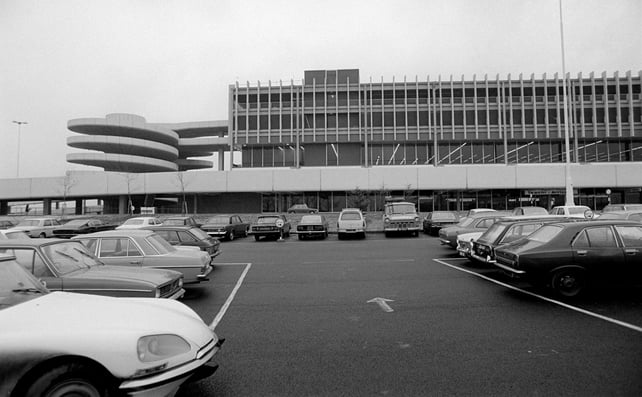 The whole complex is fitted with bronze tinted windows to reduce heat and noise. Initially, the new terminal will only handle arriving passengers but all passenger operations will be handled there within a month.
An RTÉ News report broadcast on 10 May 1972. The reporter is Mícheál Ó Briain.