Statue of Pádraic Ó Conaire (1882 - 1928) is moved back to the centre of Eyre Square in Galway City. Pádraic Ó Conaire was an Irish language writer and journalist.
Eyre Square in Galway, the focal point and centre piece of this western city.
Eyre Square underwent redevelopment in recent years at a cost of £50,000 to Bord Fáilte. While it's a lot different to the old square, the park in the centre does retain something from the old square. It has Brown's Gate and it has a statue of Pádraic Ó Conaire.
In his lifetime, this little gnome-like man, civil servant, sailor, Gaelic Leaguer, storyteller, writer, poet, was much loved. He was a familiar and welcome wanderer around the stoney countryside of Connemara.
Pádraic Ó Conaire died in 1928 and was greatly mourned. The Gaelic League opened a fund to construct a statue to him in his native city. Sculptor Albert Power was commissioned to make the statue. Liam O'Brian, one of the organisers of the fund said the money rolled in. He also described the sculpture as
A charming conception. Pádraic taking a rest on a Connemara stone wall.
Upon completion, the monument was presented to the city of Galway and placed in Eyre Square.
The only artistic, outdoor, non-religious monument in the whole of Connacht.
The statue was unveiled by Éamon de Valera in 1934. It stood almost dead centre in the square on a heaped up wall of stones on green grass and shaded by trees and bushes.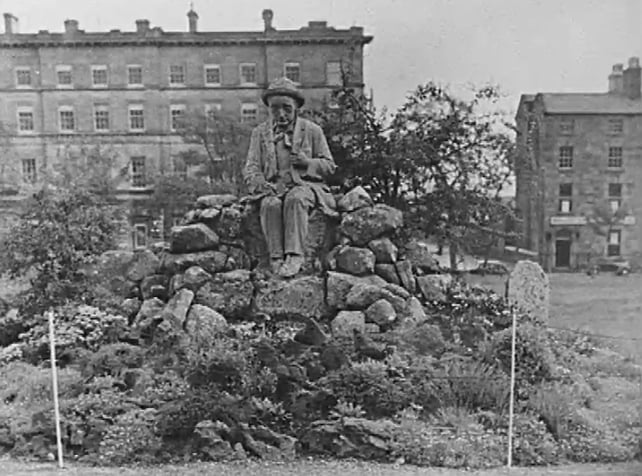 Pádraic Ó Conaire Statue, Eyre Square, Galway (1967)
Galway grew to love this statue.
In the summer of 1963/64, the square got a facelift and the Ó Conaire statue was moved from its original site to make way for a plaque to President John F Kennedy, marking the spot where he received the freedom of the city of Galway on his Irish visit in 1963. The people of Galway were angered when the Pádraic statue was banished to a corner up against an ESB transformer station. Within weeks the Connacht Tribune and the Connacht Sentinel received around fifty outraged letters of protest. Galway Corporation requested that Bord Fáilte return Pádraic to his original location in the square. A compromise was made when Pádraic was moved back to a more central position.
A 'Newsbeat' report broadcast on 21 March 1967. The reporter is Cathal O'Shannon.