A statue is unveiled in memory of former Taoiseach President of Ireland and Fianna Fáil founder Éamon de Valera in his adopted hometown of Ennis, County Clare.
Following a mass at Ennis Cathedral celebrated by Bishop of Killaloe, Dr Michael Harty, a marching band lead a parade through the town to the courthouse where the unveiling of the statue took place.
MEP and granddaughter of Éamon de Valera, Síle de Valera was among the marchers in the parade and the statue was unveiled by Fianna Fáil leader Charles Haughey. The sculpture was designed by Limerick man Jim Connolly and stands at eight and a half feet tall. It was commissioned four years earlier by a committee set up in Clare which raised £15,000 towards the cost. The remaining £40,000 was met by a levy of £1,000 on each Fianna Fáil constituency.
Members of the Fianna Fáil Party rallied to the event to commemorate their founding leader and included former Taoiseach Jack Lynch, TD Gerry Collins and TD Ray Burke.
Éamon de Valera was first elected as a TD in a by-election in East Clare in 1917.
An RTÉ News report broadcast on 11 October 1981.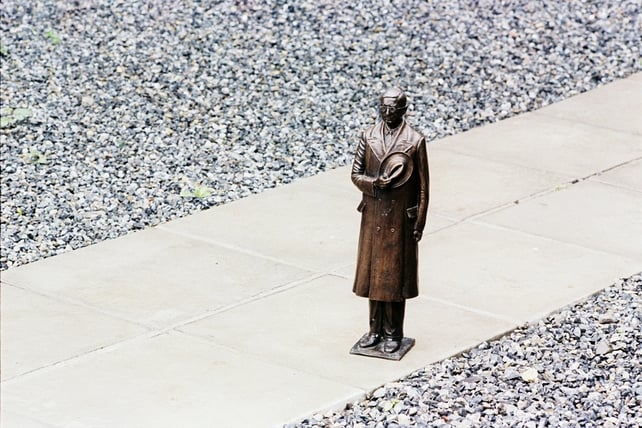 Model of Statue of Éamon de Valera (1981)
A bronze model of the statue of Éamon de Valera photographed by Des Gaffney in October 1981.