Former Taoiseach and President of Ireland is buried at his final resting place in Glasnevin Cemetery.
Éamon de Valera received a state funeral having served as Taoiseach between 1932-48, 1951-54, and 1957-9. He was President for two consecutive terms from 1959-1973. He died on 29 August 1975.
On 2 September 1975, Éamon de Valera made his last journey through the streets of Dublin to his final resting place at Glasnevin Cemetery. De Valera's remains were taken from St Patrick's Hall in Dublin Castle to the Pro-Cathedral, where a requiem mass was celebrated by his grandson Father Seán Ó Cuív, and then on to Glasnevin cemetery.
On a day of national mourning, over 200,000 people paid tribute to the statesman along the three mile funeral route from Dublin city centre to Glasnevin. The Army No. 1 Band played 'Wrap the Green Flag Round Me' as de Valera was carried into Glasnevin Cemetery.
In attendance at the funeral were family, friends, colleagues, politicians, dignitaries, diplomats, veterans of the 1916 rising, and citizens who want to pay their respects. The final prayers are recited at the graveside by Father Seán Ó Cuív. The firing party of young cadets from the Curragh fire a final volley in tribute over the grave.
As the shots ring out, standing by, the drummers and the trumpeters of the Band of the Western Command to sound the last post and reveille.
The State Funeral of Éamon de Valera was broadcast on 2 September 1975. The commentator is Brian Farrell.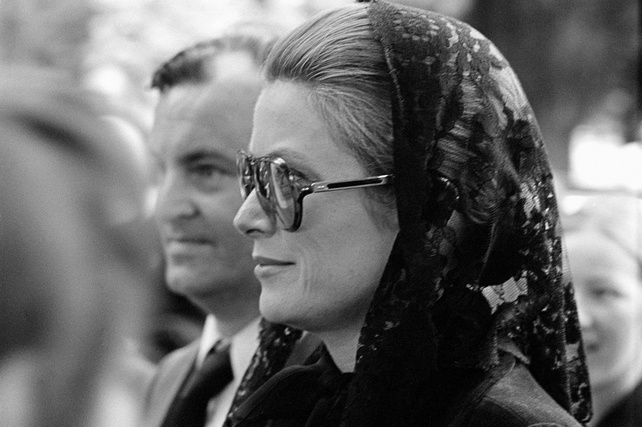 Princess Grace attends the funeral of Éamon de Valera (1975)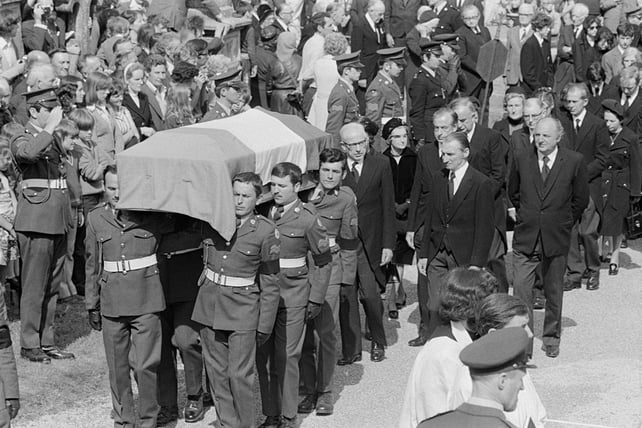 Mourners at Éamon de Valera's Funeral (1975)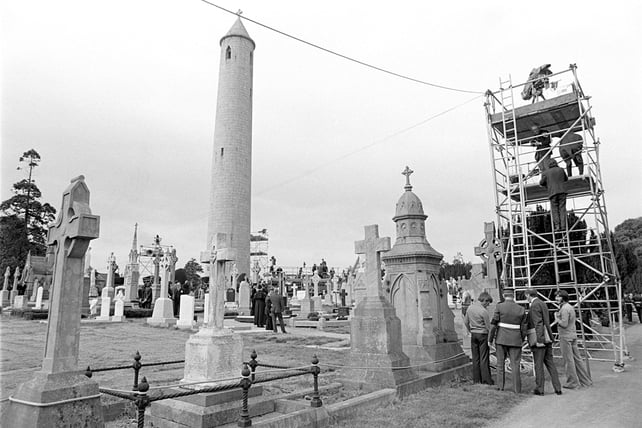 Preparations at Glasnevin Cemetery for the Funeral of Éamon de Valera (1975)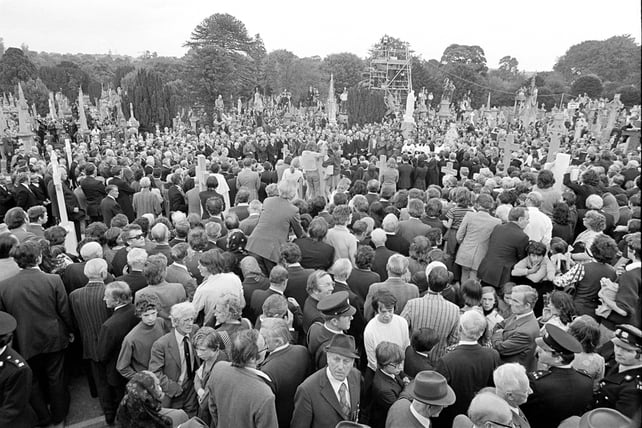 View of Mourners at Glasnevin Cemetery during de Valera's Funeral (1975)