The figure of Queen Victoria once looked down on the citizens of Dublin but for nearly 20 years now it has languished in Kilmainham as its bronze exterior turns green.
Queen Victoria died in 1901 and the Victoria Memorial Committee was formed in Dublin to perpetuate her memory. It was seven years before the statue was unveiled on the lawn at Leinster House.
The 15 foot bronze figure had stood in the grounds of Leinster House since 1908. In 1948 the statue was removed from there and placed in storage at the Royal Hospital Kilmainham.
Today, however, her ample charms are hidden from the public.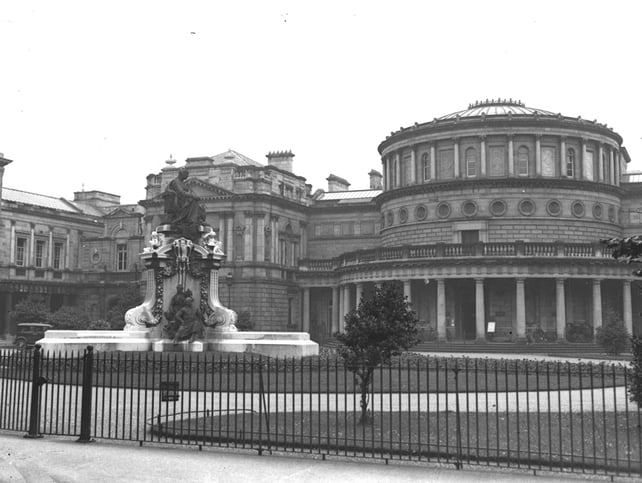 Queen Victoria Monument, Leinster House lawn (1930s), Cashman Collection.
Victoria was removed from Leinster House to make room for a new car park and since then she has
Dwelled here in the decaying dignity of Royal Hospital.
The statue is now up for sale. But as Cathal O'Shannon points out,
Her sojourn on our republican soil has turned her bronze epidermis a nice shade of patriotic green.
Queen Victoria was not alone in Kilmainham. The Royal Hospital at the time concealed an odd collection of statues. Originally opened as a hospital for old soldiers and pensioners, then as the headquarters for the civic guard, and now as Cathal O'Shannon put it,
A repository of symbols which have somehow offended. The gathering place for relics of an era which is gone. The age of Victoria.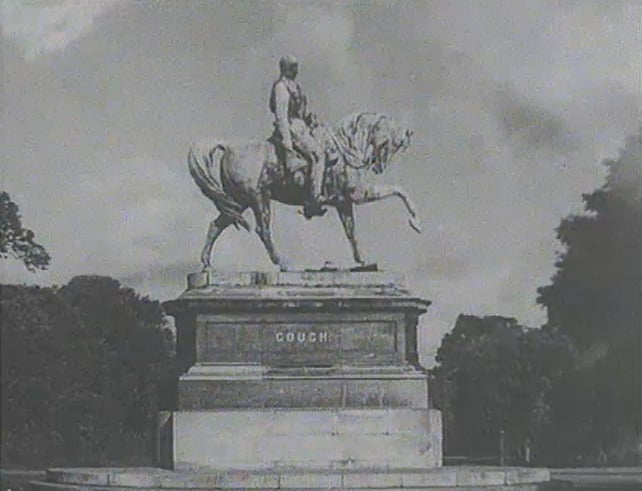 Field-Marshall Gough
A statue of Field-Marshall Gough which once stood in the main road of the Phoenix Park now resides alongside the statue of Queen Victoria. A distinguished Irish man and soldier Lord Gough fought for queen and empire and worked his way up the ranks to Field-Marshall. John Henry Foley was commissioned to cast a bronze statue of Gough in 1880, six years before the Field-Marshall died. The statue was put in place in the Phoenix Park. However, in December 1944 someone hacked his head off. The head was later found in the River Liffey and screwed back on again. In 1956 an extremist nationalist group blew the leg off the horse on which the statue of Lord Gough sat. Later in 1956 the horse and rider were finally blown off their perch. The bits and pieces of Gough and his horse now lie side by side in a yard in the grounds of Kilmainham.
This is the way our heroes today are challenging England's sway.

With a stab in the back,

A night time attack

On a horse that can't even neigh.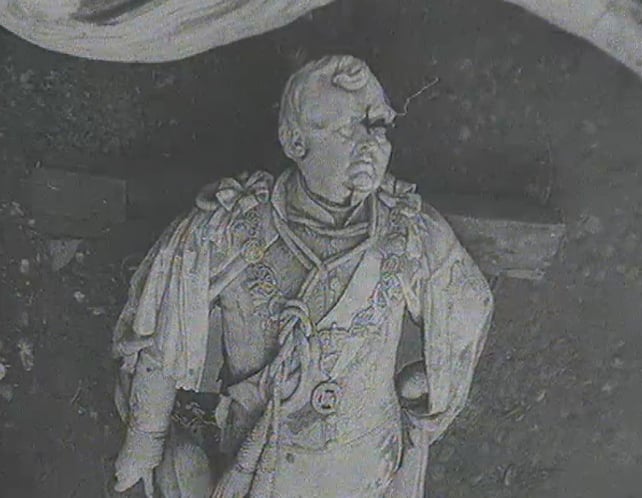 Lord Carlisle Statue
Alongside Lord Gough in Kilmainham lies Lord Carlisle who suffered a similar fate having been blown from his pedestal by dynamite in 1958.
This 'Newsbeat' report broadcast on 13 January 1967. The reporter is Cathal O'Shannon.