The government has given the go-ahead for the demolition of the Ballymun flat complex in north Dublin.
Three decades after they went up it looks as though the Ballymun tower blocks may be coming down.
Dublin Corporation has drawn up a £200 million plan for the area will see the blocks demolished one by one as groups of residents are rehoused on a phased basis. The cabinet has approved the plan for modern housing over a period of eight years on a phased basis.
The plan envisages a new town for the people of Ballymun.
There are mixed reactions to the plan from the 20,000 residents. Despite the problems in the area, many residents feel that there is a strong community spirit which has been built up over the past 30 years.
The problems at the Ballymun flats are evident as a group of residents protest over the ease with which a drug pusher has gained access to one of the towers. One resident who is in favour of the demolition says,
Flatten them and make a new city for the youth of today.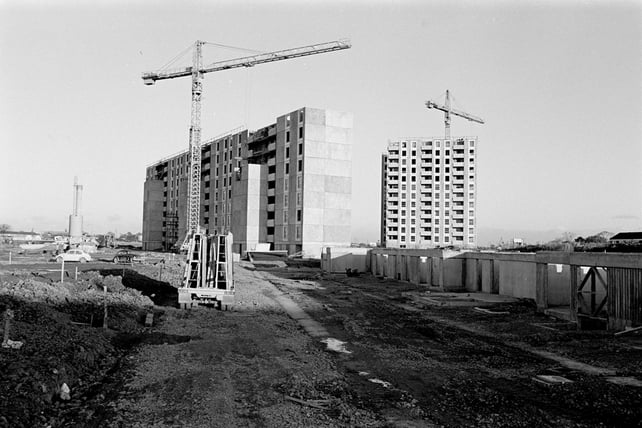 Ballymun flats under construction (1967)
Members of government visited Ballymun as the plans were announced and say they are hopeful that the plans will be visibly underway by the end of the year. Brendan Howlin TD says that the original plan envisaged for Ballymun has not worked and there is a need for change.
The decisions of the past simply weren't suitable to the Irish environment and we now want to provide a decent environment for the people who live in Ballymun who are part of the community of Ballymun.
An RTÉ News report broadcast on 11 March 1997. The reporter is Carole Coleman.