A Ballymun tower is transformed into a hotel for four weeks before demolition.
One of the former Ballymun Towers in north Dublin has been turned into a hotel for four weeks. Customers are paying money to spend a night in Hotel Ballymun before the block is demolished.
Clarke Tower in Ballymun, once a symbol of poverty and social dispair, today inside it's transformed.
The idea for the hotel spawned from the 1% of the budget that goes to the arts as part of the Ballymun regeneration programme. The towers are due to be knocked down as part of the regeneration programme.
Installation Artist Seamus Nolan describes the towers as
Iconic, national monuments.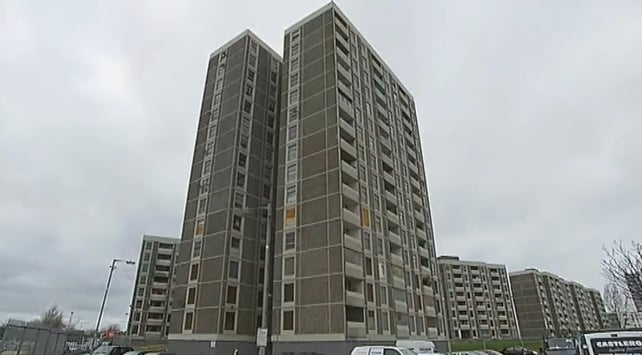 Clarke Tower, Ballymun (2007)
He feels it is important that people have some level of understanding of them before they are gone and the creation of a hotel offers this opportunity.
Artistic Director Aisling Prior describes the services on offer in the pop up hotel which includes a conference room.
The furniture in the hotel has been crafted from abandoned furniture left behind when residents left the old Ballymun flats.
An RTÉ News report broadcast on 23 March 2007. The reporter is Conor Mark Kavanagh.