The abortion referendum of 1983 is revisited in light of the X Case controversy.
A High Court ruling by Mr Justice Declan Costello to prevent a 14-year-old rape victim from travelling to England to have an abortion became known as the X Case. 'Today Tonight' looks back at the abortion referendum of 1983, where the seeds were sown for such a ruling to occur.
Dr Mary Lucey, President Society for the Protection of Unborn Children (SPUC) campaigned strongly for no exceptions to the prohibition of abortion in Ireland, deeming abortion unacceptable even in special cases such as pregnancy resulting from rape, incest, growth congenital abnormalities or where the mother's life is in danger.
University professor and physician Dr Mary Henry recalls that for the Pro-Life Amendment Campaign (PLAC) and SPUC, the referendum was more than simply the prevention of abortion. They were determined to have the right to life of the unborn child enshrined in the Constitution.
She says another wording was put forward for the amendment whereby the Constitution could not be used to introduce abortion into this country.
That did not make the situation that we have now arrived at today, where the right to life of the unborn child is in fact appearing to supersede the right to life of the mother.
While democracy prevailed, neither Dr Henry nor Irish Times journalist Mary Holland believe the electorate voting in 1983 envisaged the situation whereby the law would pursue individual women.
The argument that it could, was dismissed as hysterical.
Mary Holland says she is heartbroken and feels physically sick by the judgement handed down by Justice Costello.
I think women going to England this weekend, and there will be women going to England this weekend, must feel extremely frightened.
A 'Today Tonight' report broadcast on 18 February 1992. The reporter is Miriam Fitzsimons.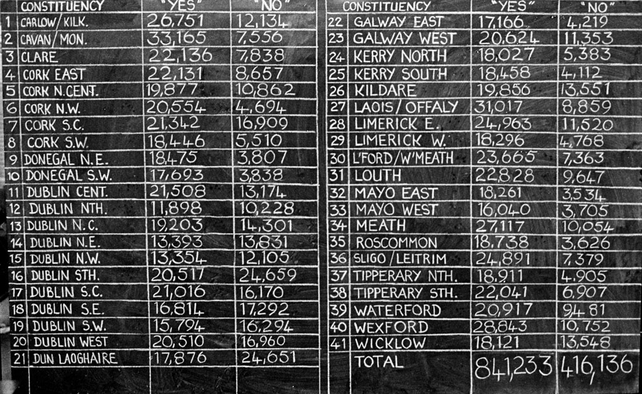 The 1983 referendum results.