The American dancer, singer and actor is a guest with his daughter Ava on The Late Late Show.
Without his top hat, white tie and tails, would you welcome Mr Fred Astaire.
Fred Astaire was accompanied by his daughter Ava Astaire-McKenzie and the pair chatted to Gay about Ireland and how Ava came to make it her home. Ava has now settled in Ireland with her painter husband Richard McKenzie.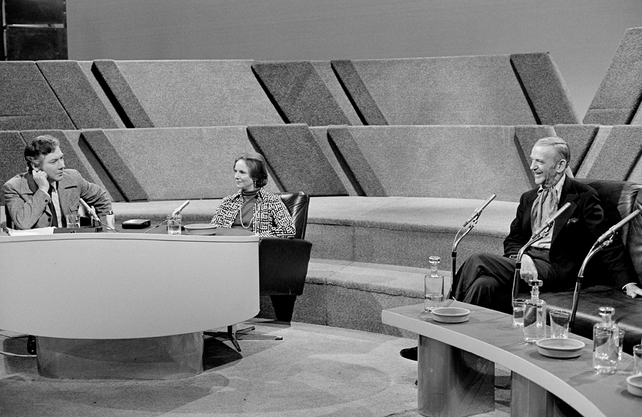 Gay Byrne, Ava Astaire-McKenzie and Fred Astaire (1977)
Fred Astaire was a frequent visitor to Ireland. This time he was here making the film 'The Purple Taxi' which also starred Peter Ustinov and David Kelly. The film was a French-Italian-Irish production with the French title 'Un Taxi Mauve'. When the opportunity arose to make a film in Ireland, Fred said he jumped at the chance to spend time here.
Filmed on location around Ireland Astaire says
I've seen more of Ireland in the past two months than all the years that I have visited.
Commenting on his love for the country he says
I've always thought that Ireland was the most unbelievably beautiful.
This episode of 'The Late Late Show' was broadcast on 8 January 1977. The presenter is Gay Byrne.