The Mushatt brothers Louis and Harry were renowned in Dublin. Based in the Liberties they were seen as the poor man's doctor and treated a variety of ailments with their tonics, potions, pills and cures.
The Mushatt Brother's chemist shop at 3 Francis Street was a famed institution to Dubliners.
Frank Hall chats to some former clientèle and learns from Harold (Harry) Mushatt how the Jewish brothers established their chemist shop in 1922. They did not believe in selling patented medicines and compounded instead their own preparations on site to cure a variety of ills.
Popular products included 'Mushatt's Creme of Emulsion', 'Hippo Wine and Squills' for coughs, special teething powders for babies, 'Black Draft' cure for hangovers, and 'Cough No More' cough syrup from a special preparation of treacle, ether, and chloroform.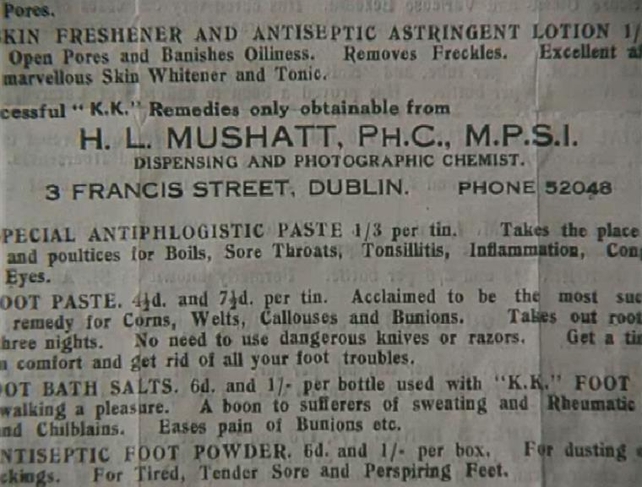 People flocked to the chemist shop which had long opening hours. Harry recalls fondly how the shop was popular with girls clubs who pooled together to buy the latest cosmetics and how customers loved to exchange banter with the brothers.
Harry Mushatt admits that although the chemist shop doors closed in 1967, he still owes a lot to his faithful customers, He produces the famous Mushatt soap in order to keep the family name in the community. Harry says he still gets a great thrill to see the Mushatt name on products in a shop.
This episode of 'Ireland's Eye' was broadcast on 10 April 1981. The reporter is Frank Hall.