Tom Murphy in conversation about his role as writer in residence with the Druid Theatre Company in Galway.
Since becoming writer in association with Druid, Tom Murphy's main collaboration with the company has resulted in 'Conversations on a Homecoming'. The entire play is set in a pub in Galway in the 1970s and is acted out in real time. The main character is Michael, who has recently returned to his home town having lived in New York for 10 years.
According to Tom Murphy, working with Druid afforded him the opportunity to redevelop a previous play called 'The White House' into what has become 'Conversations on a Homecoming'.
It is through the way that you analyse the past and how you look at the present situation that you're in, that you reveal your character to me. So that is part of the fabric and make-up of the play.
Tom Murphy also sees the "Americanisation" of not just the west but all of Ireland, resulting in "a great erosion of culture", especially in terms of the prevalence of country and western music.
The awful sentimentality in most of the songs is hostile towards the idea of an Irish culture.
This episode of 'Exhibit A' was broadcast on 11 November 1985. The presenter is Declan Kiberd.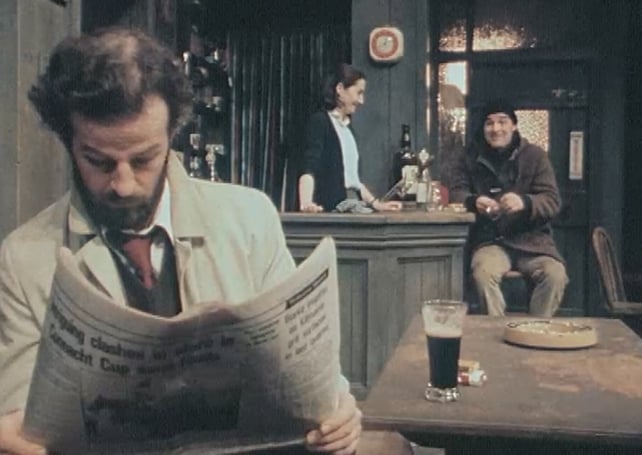 Scene from Conversations on a Homecoming