'Radharc' looks at the life of author and artist Christy Brown in 'Christy Brown My Left Foot'.
Father Peter Lemass talks to Christy Brown at his home in Dublin where he divides his time between his paintbox and his typewriter, between his two careers of artist and author.
For him, his paintbrush is a means of escape, a means of self expression, an outlet through which flows all his love of life and movement and activity.
His paintings are described as the work of man who takes nothing for granted. Everything he has, he has had to fight for.
Alongside painting, Christy also has his writing. In 1954, he published his autobiography 'My Left Foot' which has now been translated into five languages.
This episode of 'Radharc' was broadcast on 18 October 1962.
Christy Brown (1932 - 1981) was a writer, painter and poet who had severe cerebral palsy. His autobiography 'My Left Foot' was published in 1954. The film version of 'My Left Foot' won Oscars for Daniel Day Lewis who played Christy Brown and for Brenda Fricker who played his mother.
Between 1961 and 1996 Radharc produced over 400 films in Ireland and seventy five countries worldwide. The films dealt with issues of human rights, injustice, faith religion, persecution, struggles against oppressive regimes, famine and Christian heritage.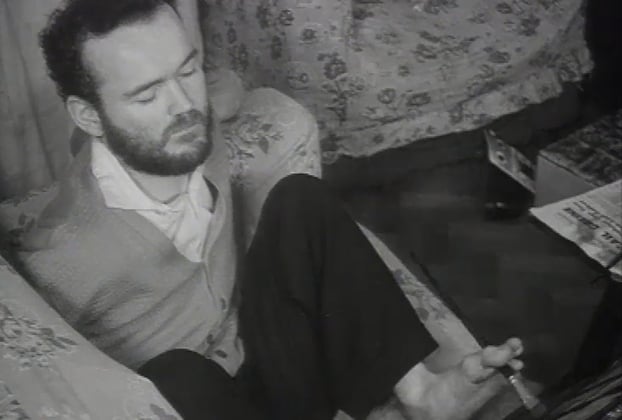 Christy Brown (1962)