A re-enactment of the role of Irish born soldiers who fought and perished in the American Civil War. The story of Chaplain, Father William Corby.
The American Civil War resulted in the death of approximately 600,000 soldiers with a further half a million battle casualties. According to official estimates, 144,000 men born in Ireland fought on the Union side and a further 30,000 on the side of the Confederates.
Some of these Irish men saw military service as an opportunity to gain experience of war, which might stand to them for later use in achieving independence for their own country. Others were anxious to show their loyalty to their newly adopted country.
While the Irish fought in many regiments during the civil war, the focus of Irish interest has always been on the Irish Brigade. The desire for an army Chaplain was particularly strong amongst the Irish Brigade and it was the influence of the Irish that led to the appointment of many military Chaplains. Fr. William Corby was the outstanding figure of Chaplains in the Irish Brigade.
Fr. Corby later described his experiences of war at the Battle of Gettysburg, where he gave general absolution to the troops who had had no opportunity to practice their religious duties for over three weeks. Major General St. Clare Mulholland also described this dramatic moment of absolution as the battle continued in adjoining fields.
This re-enactment formed part of a 'Radharc' programme by Barry McGovern, looking specifically at the Irish in America and the Irish Brigade.
This episode of Radharc 'Stories from Irish America' was broadcast on 30 April 1995.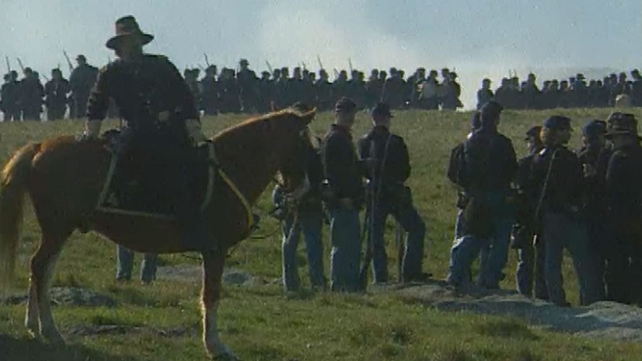 Irish Brigade Re-enactment (1995)
'Radharc', a series specialising in religious programming, was produced for RTÉ by Radharc, an independent production company run by Catholic priests and lay staff.