An amateur film-maker battled with the weather to record some terrific footage at Royal Dublin.
In 1950 the Irish Open was played at Royal Dublin and was a very different event. The tented village is a lot smaller and not a sporting logo in sight! The tournament that year was won by the Australian Ossie Pickworth.
Footage from the event shown here is edited from film shot by Norman Hodgson. A keen amateur film-maker Hodgson explains the problems he had in covering the event due to the weather and the difficulty in buying film which was in short supply at the time.
For the final round, Hodgson followed Irish amateur Joe Carr and Bill Shankland with a large crowd supporting the Sutton man. Carr would finish joint fourth and Shankland third. Pickworth's winning score was 287.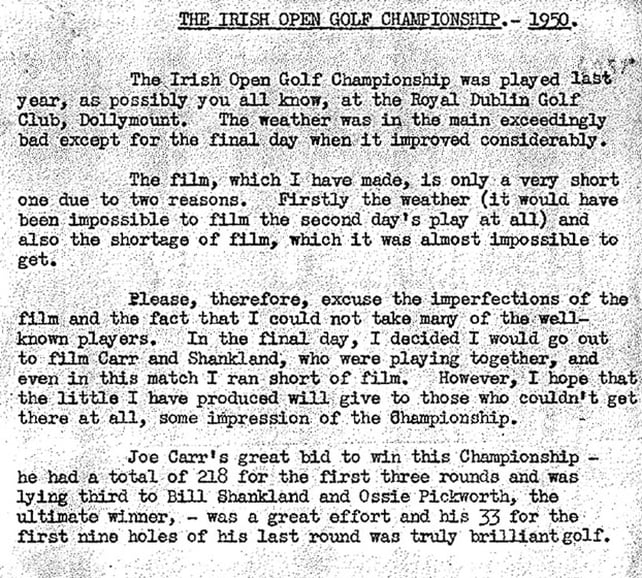 Norman Hodgson's note on filming the1950 Irish Open
The film shown here was shot by Norman Hodgson (1905-1974). Born in Lenzie in Scotland Norman married Marjorie Towers in 1932 and came to live in Skerries, County Dublin in the late 1930s. He was an avid amateur film-maker who recorded many sporting and social highlights of Irish life in the late 1940s and 1950s. Norman's films were deposited with the RTÉ Archives by his family and are known as the Hodgson Collection.