British reggae band Steel Pulse perform 'Handsworth Revolution' at the Lisdoonvarna Festival.
The fourth Lisdoonvarna Festival is taking place in County Clare from 10-12 July 1981. Major acts on the bill for the weekend include Chris de Burgh, Paul Brady, Planxty, The Beat, John Sebastian, Lindisfarne, De Danann and John Martyn.
The line-up for 10 July includes British roots reggae band Steel Pulse. The band hails from the Handsworth area of Birmingham. They give a performance of 'Handsworth Revolution' the opening track of their 1978 studio album of the same name.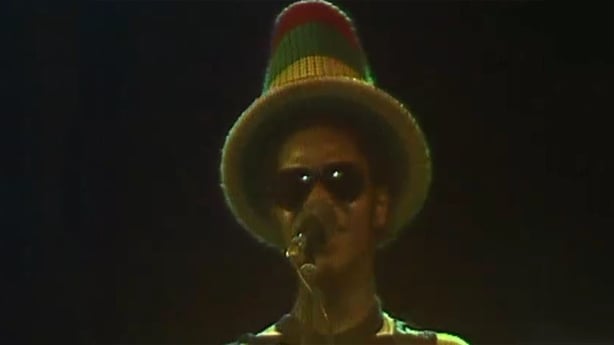 Rioting took place in Handsworth on 10/11 July 1981 and disturbances continued throughout the following two nights.
Steel Pulse are one of the highlights at Lisdoonvarna and they manage to keep the audience happy despite a torrential downpour. During the performance a member of Steel Pulse is cheered when he produces placards stating 'Nyabinghi Down To Black + White Oppressor' and 'Justice Peace Equality'.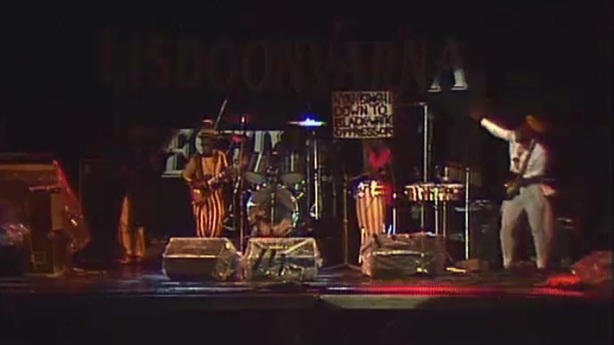 The 'Roadshow' music series features performances recorded during summer festivals and shows around Ireland in 1981. The series began on 5 October 1981.
This episode of 'Roadshow' was broadcast on 19 October 1981. The director is Avril MacRory. The producer is Brian MacLochlainn.