Violence, vandalism, drink and drug taking at the Lisdoonvarna Music Festival leave some locals opposed to any future event.
Locals in Lisdoonvarna and Doolin are not happy about how the festival, now in its sixth year, has gone and many are looking for an end to the event altogether.
'Ireland's Eye' pays a visit to Lisdoonvarna in County Clare two weeks after the festival to hear the reactions of the people to what went on.
There is growing opposition to the future of the festival following disturbances on the streets which many locals believe was caused by a lack of policing over the August Bank Holiday weekend.
One man's front door was put in but it never went to court because he claims that some relation of theirs was a friend of the cops.
According to one woman, the people of the town have voted and do not want the festival to be held there ever again.
The town voted for never ever allowing the festival to be held in or near Lisdoonvarna again.
She explains that the festival does not actually take place in Lisdoonvarna, but rather two and a half miles away near Doolin. The majority of people that come to Lisdoonvarna during the festival do not come for the music, do not contribute to the local economy, and are just there to drink and take drugs.
It was very unpleasant for the people living here. The people living here were very afraid.
The owner of Vaughan's Hotel explains how she lost trade from her regular visitors who left as a result of the trouble in the town. The hotel had to close up for the duration of the festival.
Locals are now in agreement that after five or six years of the festival, the have had enough and are not prepared to put up with it any longer.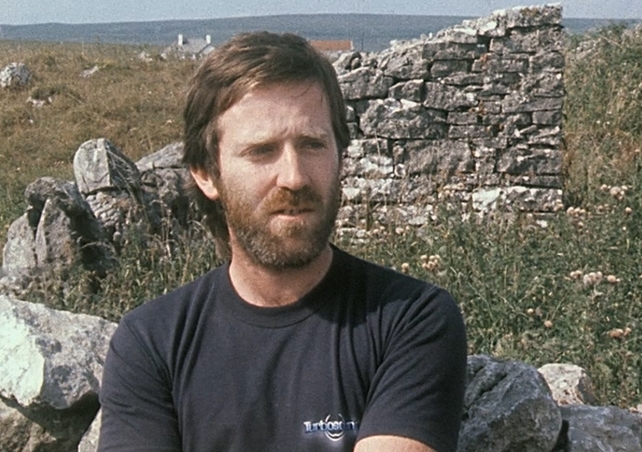 Festival Organiser Jim Shannon of Zenith Productions
Festival organiser Jim Shannon of Zenith Productions acknowledges that there was a certain amount of rowdiness at the festival but believes that locals have blown it completely out of proportion. He says that many of the local hoteliers say that they had the best weekend for a long time.
There's a lot of general statements going about but actual concrete facts are very few to find at the moment.
This episode of 'Ireland's Eye' was broadcast on 17 August 1983. The reporter is Michael Walsh.