Troops of the 37th Infantry Battalion depart for duty with the United Nations Operation in the Congo.
Taoiseach Sean Lemass reviews soldiers from the Irish army 37th Infantry Battalion before they depart for Congo for duty with the United Nations. The Taoiseach was greeted by the Chief-of-Staff Lieutenant Gen Sean McKeown and the Adjunct General Major-Gen Sean Collins Powell.
Before leaving for the Congo on 18 May, officers paraded at McKee Barracks where the salute was taken by the Taoiseach Sean Lemass.
The Army No 1 Band under Commdt JG Doherty played the Taoiseach's salute. Accompanying Taoiseach Sean Lemass were Mr HC Brady Secretary of the Department of Defence and his ADC Commdt J O'Brien.
Some of the men leaving for the Congo are going for the second and third time. The troops will travel to the Congo on US transport planes.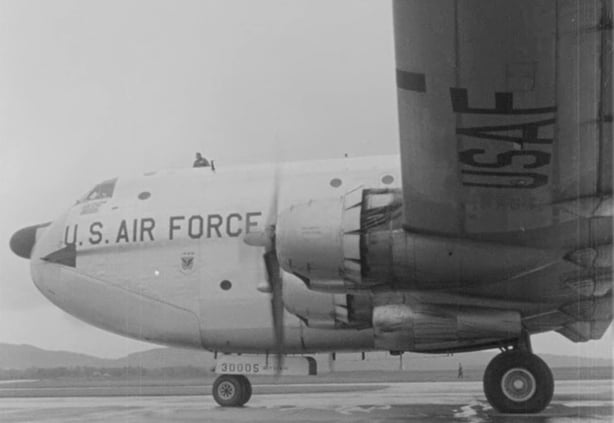 This report includes footage of one of the planes departing later that day.
An RTÉ News report broadcast on 19 May 1962. The footage shown here is mute.