The Defence Forces hold their shooting competitions at the Curragh Camp in County Kildare.
Soldiers along with members of the Air Corps and Naval Service are among the marksmen with their eye on the target and the prizes.
The competitions began last year at platoon level and now the best 180 marksmen to emerge battle it out for the top prize.
Lt Col Roger Maloney describes the importance of this training in a real-life combat situation. He believes it improves the competence of soldiers in using their weapons.
This is the build-up of a man to be the very best with his weapon.
Among the competitors with were some previous winners including Corporal Dermot Callaghan of the 23rd Battalion, Cork. Although not doing as well as he had expected in the competition, he believes he is doing fairly well so far. Corporal Dermot Callaghan won the competition in 1976 and is still hopeful of taking the title of best marksman again despite the high standards. Reflecting on his time in Lebanon, Corporal Callaghan believes that these shooting competitions provide greater confidence in actual combat situations.
If you're confident in your handling of the weapon, you're confident of that weapon when you have to use it in active service.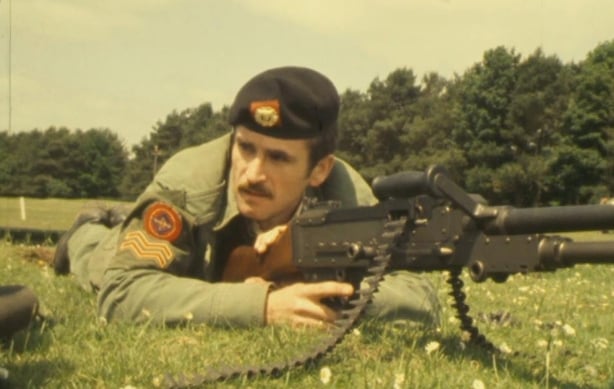 Corporal Dermot Callaghan of the 23rd Battalion
While the competition is an all-male occasion, the army's first female recruits are being trained in the use of small arms but not for combat. It remains to be seen if the markswomen will be allowed to challenge the marksmen next year.
The competition continues tomorrow when this year's honours will be announced.
An RTÉ News report broadcast on 16 June 1981. The reporter is Tom McCaughren.