What does it take to become part of a military band?
Bill O'Herlihy visits Collins Barracks in Cork where the future Irish military bandsmen are in rehearsals. These young musicians are trainees in the Army School of Music. After two years of military training, they will find out if they have been accepted into one of the country's four military bands.
With little or no musical background, the instruments they play were decided by army requirements for the future.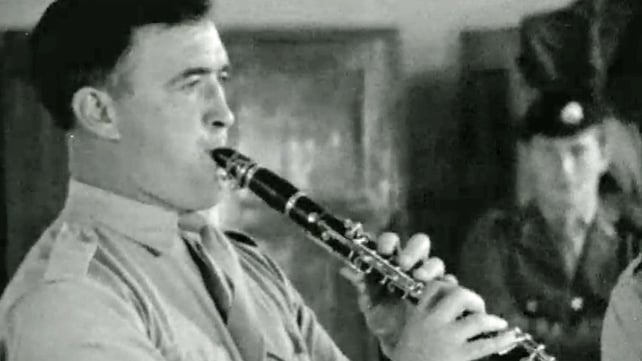 Christie Costello
One successful bandsman is 29-year-old Christie Costello. Christie has played clarinet and saxophone in the Southern Command for fifteen years.
The bandsman is an anomaly of the army, a non-fighting soldier.
As a non-fighting soldier, Christie Costello rehearses twenty hours a week plus performances on a salary scale of up to twenty-five pounds a week.
Music has been associated with wars and soldiers since trumpets were used to bring down the walls of Jericho.
With the foundation of the Army School of Music in 1923 came its first band The Number One or The Band of the Eastern Command. Soon there were three more bands, the Southern, Curragh and Western Command Bands. Since their establishment, the bands play at state, army, and civilian ceremonial occasions and can also be hired for private functions.
Commandant Seán Breathnach describes the hard work involved in being a member of the army bands.
This episode of Newsbeat was broadcast on 25 October 1967. The reporter is Bill O'Herlihy.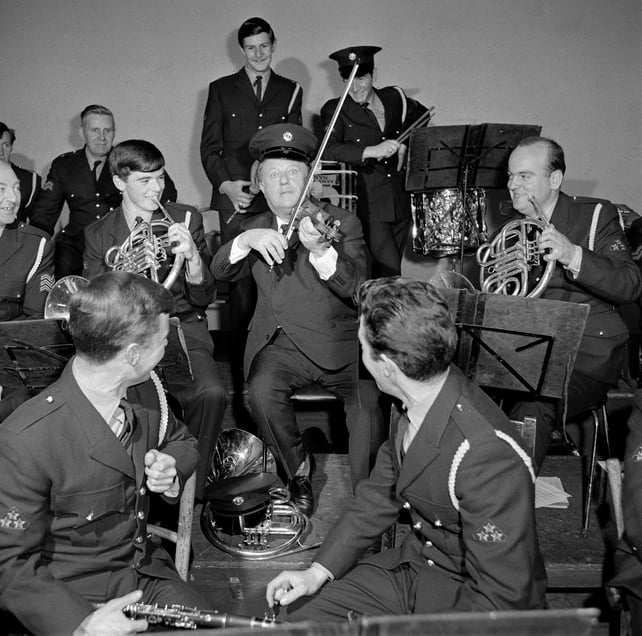 Comedian Harry Bailey with the Army No 1 Band (1969)
'Newsbeat' was a half-hour feature programme presented by Frank Hall and ran for 7 years from September 1964 to June 1971. 'Newsbeat' went out from Monday to Friday on RTE television and reported on current affairs and issues of local interest from around Ireland. The final programme was broadcast on the 11 June 1971.