Irish soldiers serving in the Congo perform an improvised piece of music for the cameras.
On 16 July 1962 'Broadsheet' broadcast a report on Irish soldiers serving in the Congo. In this clip members of 'A' Company 36th Battalion play an improvised piece of music.The accordion player was private Joe ORourke. These troops were sent to the Congo as part of the United Nations force ONUC (United Nations Operation in Congo).
A deployment of Irish troops was sent to the Congo in 1960 and over the course of the next four years, over 6,000 Irish soldiers served there.
'Broadsheet' was a magazine style, nightly review of people and events introduced by John O'Donoghue and presented by the Broadsheet Unit.

This episode of 'Broadsheet' was broadcast on 16 July 1962.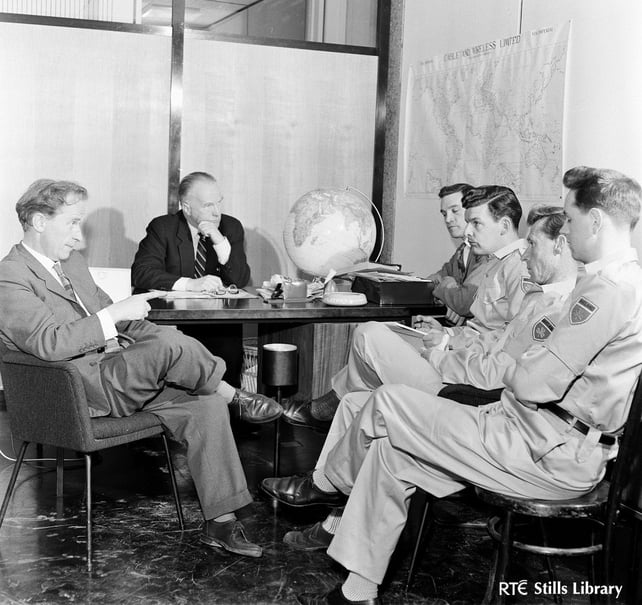 In the photograph above Telefís Éireann (now RTÉ Television) News team attend a briefing before their departure to the Congo, to spend time with Irish Army troops serving with United Nations' forces there in 1962. Pearse Kelly, Head of RTÉ News, is sitting behind the desk in the background. Reporter Seán Egan (third right), sound recordist Bill O'Neill (second right) and cameraman Stuart Hetherington (first right) are also in shot. The remaining two men are unidentified.