Frank Hall reflects on seven years of 'Newsbeat' as the series comes to an end.
When the programme started back in 1964, Frank Hall felt confident that it would last around seven weeks. If anyone had told him at the time that the programme would be still going seven years later, he would have told them that they were "stone mad". However, after seven long years maybe Frank himself has gone stone mad.
Frank Hall pays tribute to the many viewers who through their constant courage and understanding helped him to stand the strain of constant programme making. He remembers one tribute in particular.
If there was any justice in the country, this fella Hall would have been up long ago. There's more unlicensed bull on this programme than there is in the rest of Leinster.
Frank Hall presented 'Newsbeat' for the seven years, he was assisted by Cathal O'Shannon, George Devlin and Michael Ryan.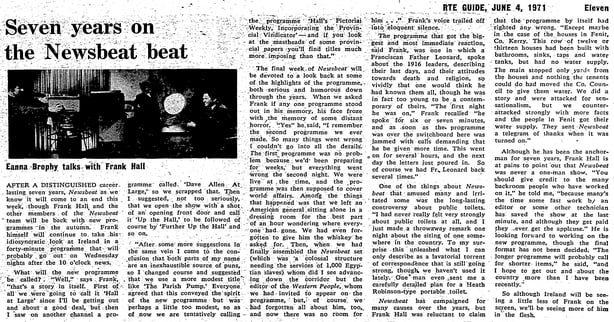 RTÉ Guide, 4 June 1971
The final episode of 'Newsbeat' was broadcast on 11 June 1971.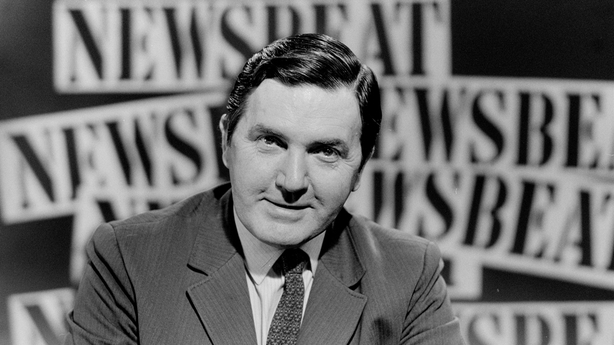 Frank Hall on the set of Newsbeat
Frank Hall returned to our screens in the amusing and satirical series 'Hall's Pictorial Weekly Incorporating the Provincial Vindicator 'on 29 September 1971.
Newsbeat was a half hour feature programme which ran on television from Monday to Friday from September 1964 to June 1971. Reporting on stories from around the country, 'Newsbeat' covered affairs of the day with contributions from print journalists and RTÉ News staff.