The old fashioned method of piercing ears is much safer than using a piercing gun.
Joseph Bite is concerned over the growing popularity of ear piercing which he says is happening on practically every street corner. Joseph Bite believes that many of the people carrying out these piercings are not qualified to do the job. He is critical of the use of ear piercing guns which he says can be dangerous. The traditional approach of using a sterilised needle is much more effective and less painful.
Joseph Bite describes himself as "a painless ear piercer". His method involves freezing the area to be pierced and then it is sprayed with the anaesthetic agent ether.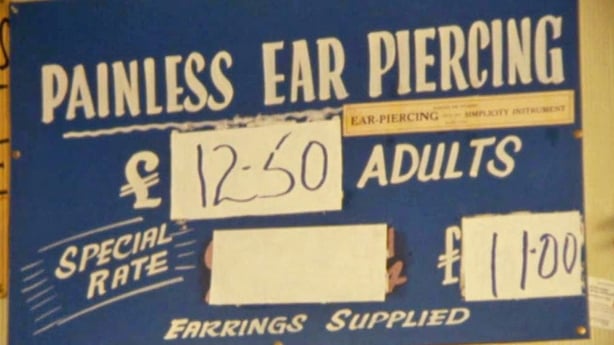 He charges £12.50 for ear piercings. However, it is possible to get your ears pierced for as little as £4.50. Joseph Bite defends the price he charges arguing his method is safer and includes good quality studs. People should insist that 9 carat gold earrings are used when piercing.
Dr Bite demonstrates how the old fashioned method of piercing works. The ear is washed before marking the point of the piercing. The the ear to be pierced is frozen and then the piercing takes place using sterilised needles and earrings are put in place. Luckily for the woman whose ears are being pierced, she felt nothing.
'Ireland's Eye' broadcast on 30 January 1981. The reporter is Frank Hall.