Male and female contestants exhibit their physical attributes to a packed Belltable Arts Centre.
Organisers of the bodybuilding competition turned people away as the venue reached a capacity crowd of three hundred. Competition organiser John Mansfield said that they were overwhelmed by the public response to the event.
Controversy was sparked when the Bishop of Limerick Most Rev Dr Jeremiah Newman said that bodybuilding contests were of questionable taste to men and offensive to women.
Women in the audience at the event give their reactions to the bishop's comment.
I think these women bodybuilders are terrific and I'm not in the least offended by them.
The winner of the women's event was 24 year old Heather Lucas from Portadown. The massively muscled Nicky Cheung from Belfast took the top spot in the men's event.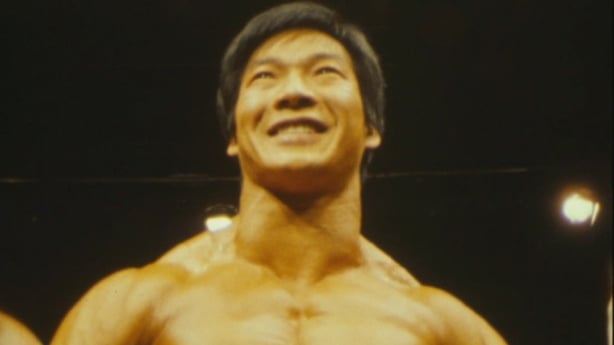 Nicky Cheung
An RTÉ News report broadcast on 17 September 1984. The reporter is Michael Walsh.