Are the churches being built in Ireland too large and too costly?
With the reconstruction of the Dún Laoghaire church underway, 'Newsbeat' asks are we building churches which are too big and too expensive?'
In the years just after the emancipation, the Catholic people of Dún Laoghaire built for themselves this church. A church to express the freedom and identity long denied them.
Dún Laoghaire Church was built in the context of the gothic revival with heavy ornamentation and lofty spires. It lasted over a hundred years until July 1965 when it was struck by fire leaving only a burnt out shell and the spire. The building was not insured but a wave of sympathy throughout the country brought in donations and reconstruction began.
To solve the immediate problem of a lack of a church, the parish quickly built a simple 700 seat church in the design of the new liturgy. It cost just £37,000 and once the old church has been reconstructed, the new church will become a community centre.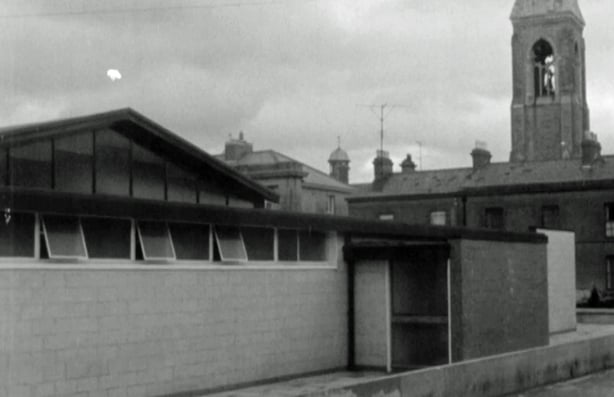 New Dún Laoghaire Church (1970)
The reconstruction work on the old church is costing almost a quarter of a million pounds. The cost involved raises the questions,
Is it really Christian to spend this money when there's want all around us?

Are we building churches which are too big and too expensive?
This episode of 'Newsbeat' was broadcast on 8 October 1970. The reporter is Michael Ryan.
'Newsbeat' was a half-hour feature programme presented by Frank Hall and ran for 7 years from September 1964 to June 1971. 'Newsbeat' went out from Monday to Friday on RTÉ television and reported on current affairs and issues of local interest from around Ireland. The final programme was broadcast on 11 June 1971.