Broadcaster, journalist and author Breandán Ó hEithir returns to his birthplace Inis Mór, the largest of the Aran Islands.
Breandán Ó hEithir works with the RTÉ Irish language current affairs programme 'Féach' and is a regular contributor to 'The Irish Times'. He grew up on Inis Mór, the largest of the Aran Islands off the County Galway coast.
Breandán Ó hEithir considers himself a man of two places the island and Galway where he attended University College Galway.
The boy belongs to the island, the young man to the mainland.
When Breandán Ó hEithir returns to Inis Mór he visits his cousin Alice Powell as the house where he grew up no longer exists. He cycles over to Gort na gCapall to the house where his mother Bríd (Delia) Ní Fhlatharta was born. Nine generations of the family lived in the house, going back to the 1600s.
None of Bríd's family remains on the island. The last surviving family member, her brother the writer Liam O'Flaherty, now lives in Dublin. Gort na gCapall and the animals of the area provides the subject matter for many of the writer's short stories.
Breandán Ó hEithir visits his favourite place on Inis Mór where he used to swim as a child and where he and his Uncle Liam fish together when they visit the island. Breandán Ó hEithir also pays a visit to Cill Éinne (Killeany) graveyard where his people are buried.
'My Own Place' is a documentary series in which prominent Irish personalities take an affectionate look at the place they were born or brought up in, or at some particular place that has significantly influenced their thinking.
The episode of 'My Own Place' was broadcast on 1 October 1975. The commentary is provided by Diarmaid Ó Muirithe.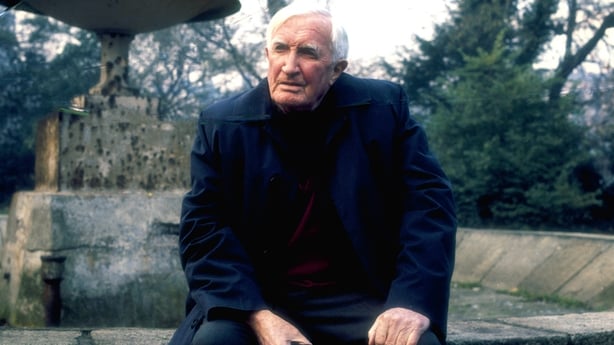 Irish writer Liam O'Flaherty in 1977.