Rolls Royce roll out their latest model to the Irish car market.
To date, Rolls Royce has produced and sold 25 of its Camargue models to British buyers and one order has been placed by the Dublin distributor.

At a cost of £45,000, the Camargue is almost £14,000 more expensive in Ireland than in Britain. However, the cost is not usually a problem for Rolls Royce drivers.
Running costs are also a consideration with a gallon of petrol taking you about 12 miles in city traffic. Longer journeys could yield between 15 and 20 miles to the gallon depending on how fast you drive.
It's still regarded as an investment as well as being the ultimate in motoring design and performance and never fails to attract attention.
The Camargue has all the latest in gadgets and technology with a touch button throttle, air conditioning and electric windows and radio aerial.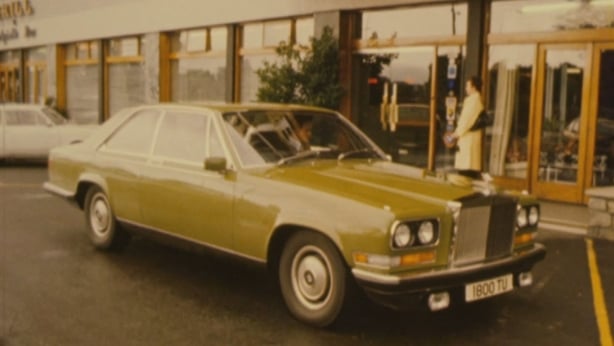 Rolls Royce outside the Montrose Hotel in Donnybrook (1975)
Rolls Royce is confident about the future of the Camargue and the company expects that British buyers will purchase around half of the cars manufactured. The rest will be sold in oil-producing countries and America. However, there could be some delays in meeting the demand for the car with production at just one and a half cars per week.
An RTÉ News report broadcast on 17 September 1975.