Thomas Mobey on being a member of the Auxiliary Division of the Royal Irish Constabulary during the War of Independence.
The Auxiliary Division of the Royal Irish Constabulary (ADRIC) played a pivotal role in combating the Irish Republican Army (IRA) during the War of Independence. In response to an escalation of the conflict, from July 1920 Auxiliaries were recruited to reinforce the Royal Irish Constabulary. The Auxiliaries were operational from September 1920 until the truce in July 1921.
The Auxiliaries were recruited from demobilised British Army officers who needed work in post war Britain. Thomas Mobey, a Second Lieutenant with the Royal Air Force became a Temporary Cadet with ADRIC on 25 October 1920. He was stationed in Macroom, County Cork an area of high IRA activity.
On his arrival in Ireland Thomas Mobey attended an address by Brigadier General Frank Crozier who commanded ADRIC until February 1921.
It was a general address of what we'd got do, it was, you know kill 'em.
Thomas Mobey explains that ADRIC were an entirely separate body to the Army and discipline was very strict.
We had our own officers our own generals, we had our own headquarters and one of the things the army didn't like us for was because we didn't salute their officers, we'd got staff officers in our crowd.
The Auxiliaries were well paid at £1 per day, but Thomas Mobey disagrees the money was good because they had to keep themselves. He also disagrees with the commonly held view of ADRIC running riot in Ireland.
This business of all these cruelties and all these things are a lot of hooey.
When asked why the bad reputation of the Back and Tans and the Auxiliaries persists he replies,
Why do you think the police and troops in Ireland have a bad reputation today? Same thing.
Thomas Mobey speaks about how the Auxiliaries dealt with ambushes,
Our job actually was to protect the police, we went around in Crossley Tenders and of course as I say we tried to keep the peace in the countryside.
When the truce was announced,
People who had been on the run returned, and some of the people who we didn't know had been on the run actually got very cheeky, because when the truce was declared all our arms were taken away and we were just the same as ordinary civilians.
The demobilisation of ADRIC began in January 1922. On 23 January Thomas Mobey was discharged from ADRIC. In 1984 he died in England aged 87.
The account given here is edited from an interview filmed with Thomas Mobey on 10 May 1979 during the production of the television series 'Ireland A Television History'.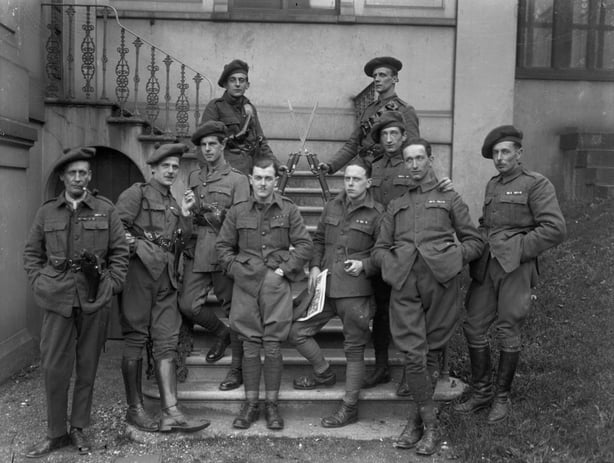 The Auxiliary Division of the Royal Irish Constabulary and Black and Tans on duty in 1921.