Vinny Byrne describes an IRA attempt to kill the Lord Lieutenant of Ireland that resulted in the death of Martin Savage.
On the 19 December 1919, a group of IRA members tried to assassinate the Lord Lieutenant Field Marshall Sir John French. Vincent (Vinny) Byrne one of the men involved recalls the attack at Ashtown. The ambush was carried out by members of the Dublin Brigade of the IRA. They were joined by Tipperary men Dan Breen, Seamus Robinson, Seán Treacy and Seán Hogan who had taken part in the Soloheadbeg ambush and were in hiding in Dublin.
Lord French had been a prime target since the escalation of IRA attacks in August 1919. Vinny Byrne recalls how he happened to hear that the Lord Lieutenant would be returning from Roscommon by train arriving at Ashtown station.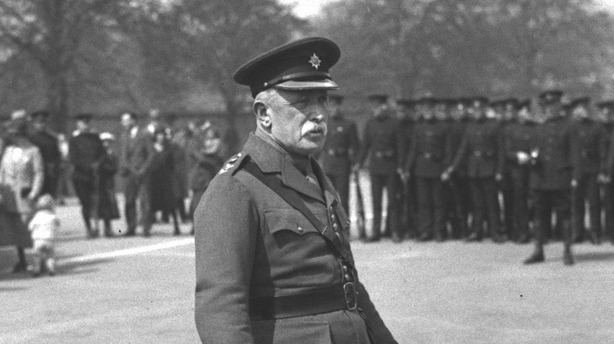 The IRA men cycled out to Ashtown crossroads where they gathered in Kelly's public house to wait for the arrival of the Lord Lieutenant. The IRA volunteers were blocking the road as the convoy of cars carrying Lord French back from the railway station approached. The IRA opened fire but the first car which was carrying Lord French got through. The second car was stopped and the gun battle Martin Savage was killed by a shot from the third car.
The next thing I heard was I am hit. Savage, he was on the ground. He was dead. Killed instantly.
The cars eventually got through and drove into the Phoenix Park at the Ashtown Gate. With only bicycles for transport, the IRA men had to leave the body of Martin Savage behind. Orders were given for the IRA men to head back into the city. Dan Breen who had been shot in the leg was brought to a safe house in Phibsboro where his wound was treated before he was brought to the Mater Hospital.
I thought the military would have been out and cut off our retreat into the city.
The Catholic church and the newspapers condemned the attack on Lord French. A church reprimand was not something that concerned Vinny Byrne.
Vinny Byrne was interviewed during the production of 'Ireland A Television History' in 1978. The interviewer is Robert Kee.