Ceremony marks the anniversary of the truce ending the hostilities between Irish and British forces.
Fifty years after the signing of the Anglo Irish Truce of 1921 a commemoration ceremony took place in Dublin's Garden of Remembrance.
During the ceremony, a 25 foot high bronze memorial sculpture 'The Children of Lir' by sculptor Oisín Kelly was dedicated. Inspired by the poem 'Easter 1916' by WB Yeats the sculpture symbolises the Easter Rising and The War of Independence. It depicts four human figures being transformed into swans; the swan being a symbol of resurgence and triumph.
Dignitaries at the commemoration ceremony include old IRA members as well as representatives from the diplomatic corps, judiciary and government members. A Captain's Guard of Honour composed of 100 men stand by to render honours to Taoiseach Jack Lynch and to the President Éamon de Valera.
All here, celebrating that extraordinary achievement by a small but determined army of men who have, are been commemorated, so many times, but today, again, with all the honours that the nation can bestow.
Designed by Daithí Hanly the Garden of Remembrance opened in 1966 on the 50th anniversary of the Easter Rising as a dedication to the men and women who died in the cause of Irish freedom.
'Anglo Irish Truce Of 1921: A Commemoration In The Garden Of Remembrance, Dublin' was broadcast on 11 July 1971. The commentator is Seán Duignan.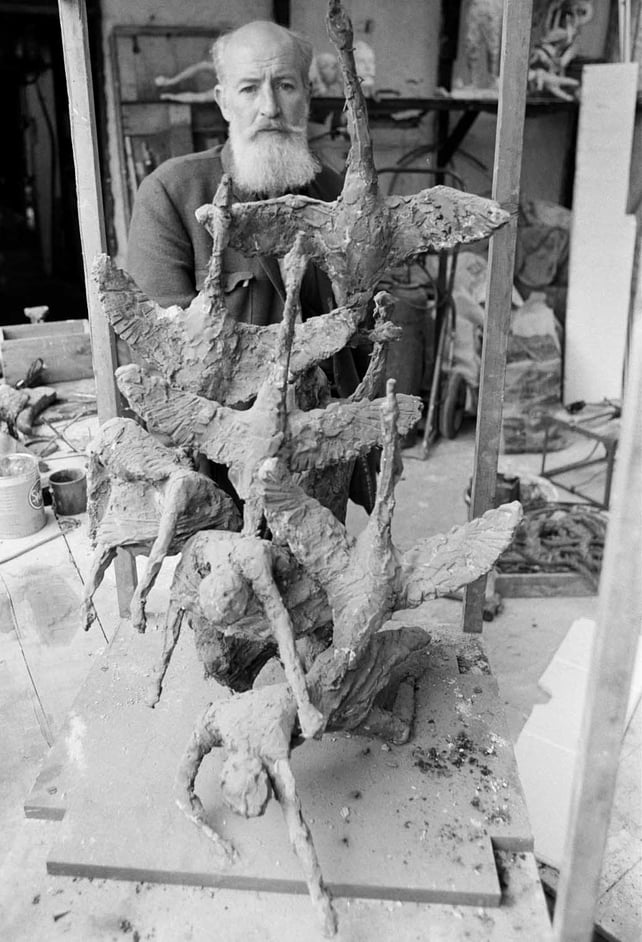 Oisín Kelly in his studio with his model for the sculpture of the 'Children of Lir'.