Queen Victoria lies in bits in a Clones butter yard after being hit by a beer lorry. The people of the town discuss should the old lady be re-erected or replaced?
The town of Clones in County Monaghan faces a dilemma over replacing a memorial to Queen Victoria with a memorial to 1916.
A quiet little town with an ancient Celtic cross dominating its main square and at the moment no other monument.
Clones was the headquarters of the 5th Northern Division during the war of independence. The town also has a 1916 Commemoration Committee but no memorial.
It has Fitzpatrick Square, named after local hero of the 1916 Rising Matt Fitzpatrick who was later killed in action during the War of Independence. Jubilee Avenue has recently been renamed 98 Avenue. But no statue or monument.
Despite this Clones is currently concerned with a memorial to Queen Victoria. Until 18 months ago, Clones had a memorial to Queen Victoria. The memorial had been erected in the diamond in Clones to commemorate Victoria's jubilee to the throne of England, Ireland, and empire.
It was an ornate piece of work with pig iron profiles of the old queen looking down benevolently on her subjects. But the brewery truck destroyed all that.
During a power cut 18 months ago, a huge brewery truck inadvertently backed into it. Today the bits and pieces of the memorial lie in the butter yard until someone decides what to do with them.
The delicate tracery of the Victoria jubilee memorial collapsed here in a tangled heap of pig iron. Today, only the fountain remains.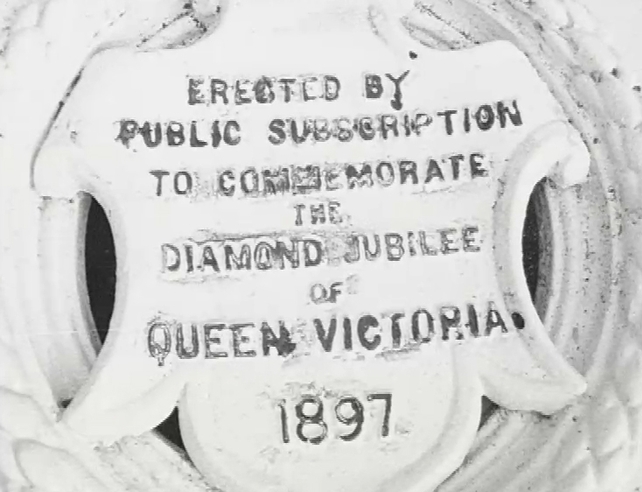 Queen Victoria Memorial, Clones, Co. Monaghan (1967)
The urban council collected £450 for the damage caused to the monument. However, it would cost £600 to replace it in all its glory. The problem is finding the difference of £150 if it were to be fixed and put back in place. If the urban council does not put the memorial back, then the question remains as to what becomes of the £450 insurance.
Cathal O'Shannon gets the views of some of the people of Clones town as to whether this old relic of the empire should be put back in place, and opinions are mixed. Some feel the money should be spent honouring the men of 1916, while others are not convinced. One man says,
I don't see why we should erect anything to Queen Victoria. We never owed her anything. We should erect a monument to the officers and men of the Northern Division.
Another comments
We are not going to become the laughing stock of the nation by re-erecting a memorial to Queen Victoria in 1967.
This episode of Newsbeat was broadcast on 27 April 1967. The reporter is Cathal O'Shannon.