The Dancing Circle a work of sculpture on show the Mansion House in Dublin.
Former Antrim computer software engineer and sculptor Robin Buick has no formal art college education but his latest creation 'The Dancing Circle' is his most ambitious work to date. This work has been created for the United Artists Irish Art Sale and Spring Exhibition.
Robin Buick loves to work with three dimensional human forms. He has been studying figurative sculpture for fifteen years and took it up as a full-time vocation in 1984. He has exhibited extensively in group exhibitions and at the annual RHA exhibition.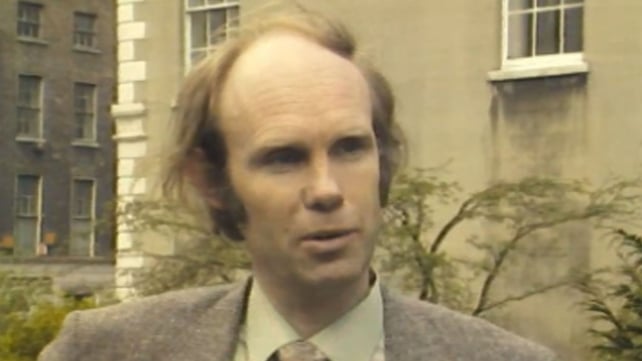 Sculptor Robin Buick (1986)
Robin Buick tells RTÉ News about his love for the classical human form and explains the symbolic nature of the figures' nakedness in his sculpture The Dancing Circle. The resin sculpture has an asking price of £8,000 for the circle and £1500 for a single figure.
The United Artists Spring Exhibition in 1986 also features work by artists including Desmond Carrick, Liam Treacy, Norman McCaig, and George Gillespie.
An RTÉ News report broadcast on 9 May 1986. The reporter is Una O'Hagan.