Live Aid concerts in London and Philadelphia broadcast around the world raise money for famine relief in Africa.
The Live Aid concerts took place simultaneously at Wembley Stadium in London and John F Kennedy Stadium in Philadelphia to raise money for famine relief in Africa.
It was a spectacular finale in Philadelphia in what is being hailed as the greatest show on earth.
The RTÉ studios in Dublin were the centre for the Irish fundraising effort where £2.5 million was pledged during the Live Aid Telethon. An AIB bank official commended the efforts of both the Irish people and in particular Live Aid organiser and Dubliner Bob Geldof.
Bob Geldof praised Ireland's fantastic contribution to the Live Aid fund. Speaking to RTÉ News after the Wembley concert, he described the event as an extraordinary, perfect day.
Taoiseach Garret Fitzgerald today supported the call for the nomination of Bob Geldof for a Nobel Peace Prize.
An RTÉ News report broadcast on 13 July 1985. The reporter is Alan McCullough.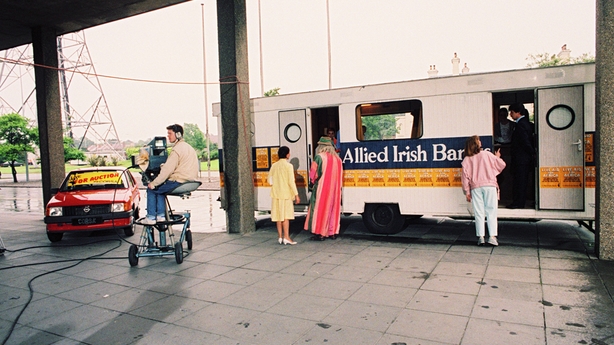 An AIB (Allied Irish Bank) mobile bank outside the RTÉ Television Centre, during RTÉ's coverage of Live Aid, 'Live Aid for Africa', on 13 July 1985. Photo by Tom Holton.