In recognition of his famine relief work in Ethiopia, Bob Geldof is honoured at a civic reception in Dublin.
Bob Geldof was presented with a silver tankard in honour of his famine-relief efforts in Ethiopia. The Boomtown Rats singer had founded Band Aid with Midge Ure. Their fundraising song 'Do They Know It's Christmas?' was a major international success.
At a civic reception in the Mansion House, Dublin's Lord Mayor Michael O'Halloran says he chose the tankard because it was a cup for carrying liquid.
Accepting the award Bob Geldof says it is always nice to be honoured by your own city and that the Irish had contributed more per capita than any other people in the world. This might be due to the memory of Ireland's great famine. However, he had some harsh words to say about Dublin.
He talks to RTÉ News about the brutalisation of the city of Dublin by building development and a heroin epidemic.
I think when a city is being destroyed by its custodians, then what are the people who live in it meant to think?
An RTÉ News report from 4 March 1985. The reporters are Peter McEniff and Charlie Bird.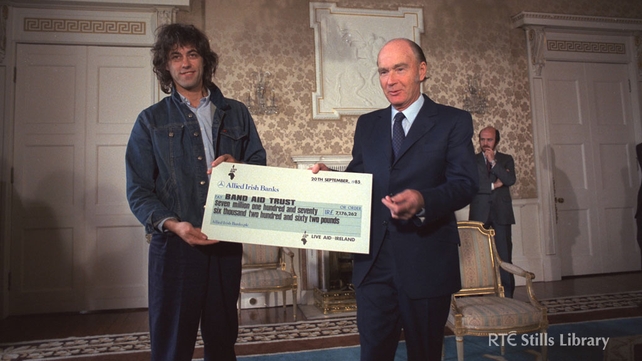 Bob Geldof receives a cheque from President Hillery