Following the success of Live Aid, organiser Bob Geldof featured in an episode of Today Tonight where he talks fame and wealth.
I don't see fame as an imprisoning thing. I don't see money as an imprisoning thing. It liberates you... In a material world it seems to me that the best way to live is to out-materialise everybody."
In this report, Bob is pictured at Áras an Uachtaráin, accompanied by his wife Paula Yates and their daughter Fifi Trixibelle. He is presented with a cheque by President Patrick Hillery for over £7 million. The cheque was presented to Bob on behalf of the Irish people as their contribution to Live Aid. On receiving the cheque Bob leans in and kisses the President on the cheek.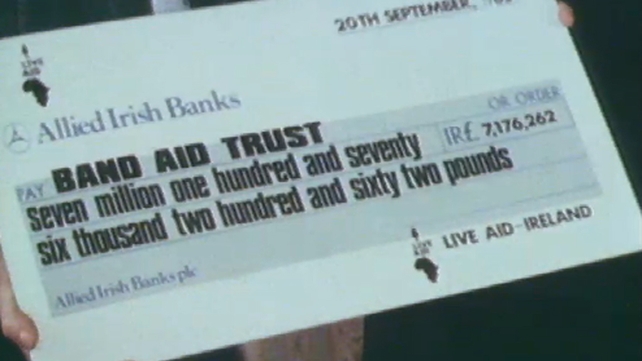 Band Aid Cheque Presented to Bob Geldof for Live Aid (1985)
At a press conference following the presentation of the cheque Bob is asked about being the first man to kiss the President, and how an Irish man came to be at the centre of the Live Aid operation.
This episode of 'Today Tonight' was broadcast on 1 October 1985. The reporter is Joe Little.