Live Aid organiser, Bob Geldof speaks to Morning Ireland about the generosity of the Irish people in response to the millions raised from the event.
Live Aid benefit concert took place on 13 July 1985. The event was organised by Midge Ure and Bob Geldof to raise money for famine relief in Ethiopia. This was a huge endeavour with concerts taking place simultaneously in London and Philadelphia, and televised around the globe.
Three days after the Live Aid concerts Padraic O Ciardha spoke to Bob Geldof for Morning Ireland.
I feel extremely privileged to be an Irish man at this point because Ireland more than any country in the entire world... they have shown the rest of the world what it is possible to do.
At the time of this report worldwide donations amounted to approximately £50 million, with £4 million coming from Ireland. Bob Geldof comments on the extreme generosity of the Irish people. In addition the Fine Gael/Labour coalition government of the time, led by Garret FitzGerald donated £250,000, a gesture which had not been made by any other government.
Subsequently, a total of £7 million was raised in Ireland and a cheque for this amount was presented to Bob Geldof by President Hillery on behalf of the Irish people. Bob Geldof received an honorary knighthood for his humanitarian work and was nominated for the Nobel Peace Prize.
A Morning Ireland report broadcast on 16 July 1985.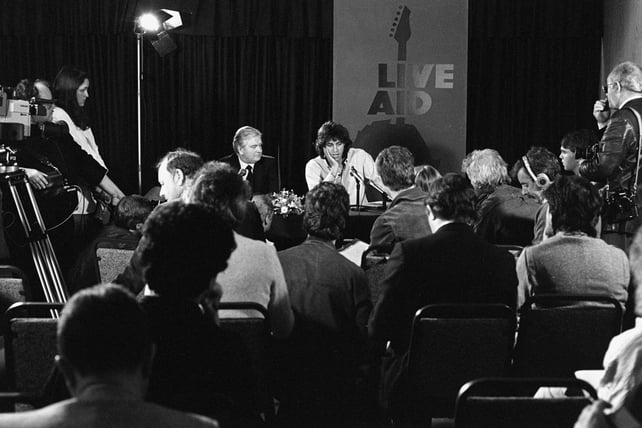 Bob Geldof at Live Aid Press Conference (1985)