German friends have set up a farm in Tipperary with an emphasis on diversity and a respect for nature to produce organic food.
Ballybrado House, situated near Cahir, was built by wealthy businessman Abraham Denny in 1879 on a site of 230 acres. Since then, farming methods have changed from traditional to modern intensive and back again to older methods.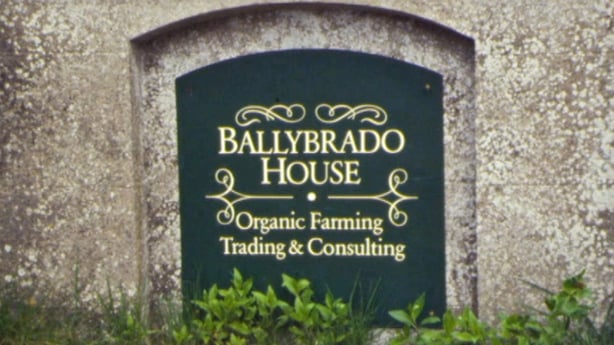 Ballybrado House, Tipperary (1985)
In 1983, the house was bought by five German friends, Marianne and Josef Finke, Richard and Sylvia Auler, and Helmut Borchers. Together with their respective families, they have been living and working on the farm for the last two years. They also employ a number of farmworkers from Germany who are learning all about organic farming.
No artificial fertilisers, no growth hormones and no weed killers.
Richard Auler explains how the farm operates in harmony with nature.
Organic farming means healthy soil, healthy plants and finally healthy food.
While they work closely with nature, they also embrace the use of technology but are very selective in the machinery they use so as to put as little pressure on the ground as possible.
Martin Finke is critical of many modern approaches to farming which he says damages the soil. They have developed their own machine as an alternative to ploughing. The machine loosens the soil but does not turn it over.
Life on the farm is very organised and every day they all come together for a communal meal. The house itself is big enough to provide each of the families with separate living quarters.
The three men come from different backgrounds. Richard Auler owned a vineyard in Germany, Josef Finke was a businessman and Helmut Borcher a car salesman. They are all in agreement that the move into organic farming was a positive one. They came to Ireland because it was politically calm and relatively unpolluted.
Their main income is from grain, most of which is exported to Germany. They also grow vegetables for themselves and sell any surplus. They keep free-range hens, saddleback pigs and sheep. Much of their work is quite labour intensive but they believe that this approach to farming is the most sustainable for the future.
An RTÉ News report broadcast on 12 June 1985. The reporter is Alasdair Jackson.