The increase in the use of chemical insecticides in agriculture requires farmers to show good sense as they go about their work.
There is a growing use of chemicals in farming and the handling of these poisons comes with a set of safety guidelines.
Professional care and a good old-fashioned respect for safety is built into our handling of dangerous drugs and poisons.
At one time, only chemists or pharmacists were allowed to dispense of substances of a poisonous nature and even they were bound by stringent regulations, strict accountability, and a carefully maintained register. Poison was not easily come by. It came in small doses, individually dispensed and rigorously controlled from chemist to customer. However, things have changed most notably in the world of farming.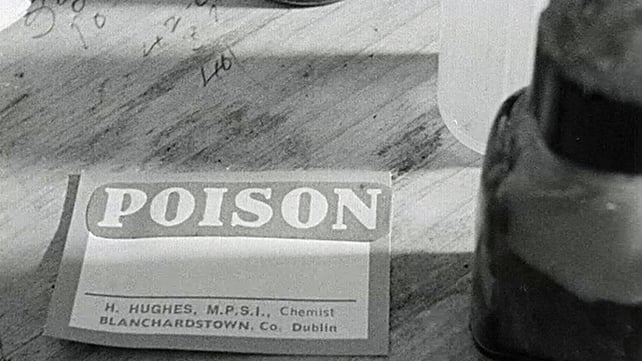 Firstly, the Poisons and Pharmacy Act of 1908 allowed local authorities to issue licences to merchants for the sale of poisonous substances. Secondly, the extensive use of synthetic preparations for every day farming with almost every field in the country bearing evidence of this. Sensible farmers respect the synthetic, highly dangerous, modern weed killers and insecticides but many are careless. Preparation of these poisonous solutions comes with a set of safety guidelines. Wear protective clothing; wash hands thoroughly, and no smoking on the job as these liquids are highly flammable.
It's quite a routine to handle solutions that then will be scattered freely across the countryside.
This episode of 'Seven Days' was broadcast on 15 October 1968. The reporter is Brian Farrell.