Electric Eddie is the eye in the sky bringing Dublin traffic updates to RTÉ 2FM listeners.
Ray D'Arcy is in a graveyard in search of Electric Eddie, real name Doug Murray. Electric Eddie explains that he always goes to the graveyard to relax, unwind and recharge his batteries.
This is Electric Eddie getting it on for Ian Dempsey's Breakfast Show.
He tells the story of how while driving through the desert in Arizona he crashed his car. When Doug Murray woke up, he was Electric Eddie. Known as a corny joke teller Electric Eddie does not hold back when chatting to Ray D'Arcy.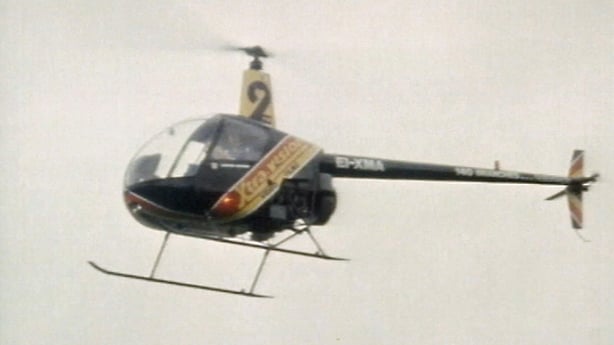 Electric Eddie's Helicopter
Electric Eddie and pilot Captain Silver take to the sky in a helicopter over Dublin to provide traffic reports for 2 FM radio. When not in the sky, he is on the road in his jeep. Electric Eddie's bird's eye view of the city allows him to report back to 2FM presenters Ian Dempsey and Barry Lang in studio with the latest traffic news in his own unique style.
Westland Row is absolutely chockersville Arizona this morning.
It also provides the opportunity to tell another bad joke,
Q. Did you hear about the Indian who drank four pints of tea?
A. He was found dead in his tepee.
One of Electric Eddie's favourite jokes is about Russian snooker player "In Off The Red".
In terms of superheroes, Eddie sees himself as the best even next to Radioactive Ray, who gets the opportunity to report back to Barry Lang on the latest traffic and even throws in a joke.
Eddie does not work alone. He relies on information from the Dublin Traffic Control Centre which has fourteen cameras strategically positioned throughout Dublin city.
This episode of 'Jo-Maxi' was broadcast on 26 February 1990. The presenter is Ray D'Arcy.