UCD students promote the revival of Rag Week with a unique singing performance.
Gay Byrne introduces the The Footlights predicting that,
They will be the biggest thing in show business in Ireland.
The Footlights sing 'You've Got A Friend', written by Carole King and made famous by James Taylor.
Mid song the singers are joined by four companions who proceed to cover them in shaving cream as they perform much to the amusement of the audience.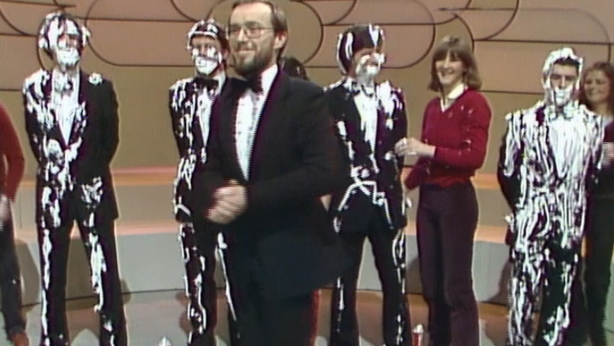 The students are part of a UCD organisation called Footlights which puts on events throughout Rag Week. One of the singers, Paul Yates, outlines plans which include a variety show at the Gaiety Theatre featuring people like Hilton Edwards, Danny Cummins, and Fab Vinny (Vincent Hanley). All the events will raise money for charities such as Our Lady's Hospital in Crumlin.
This episode of The Late Late Show was broadcast on 9 February 1980. The presenter is Gay Byrne.