A fall in the supply of housing in recent years has had a marked effect on prices and the ability of young people to buy a home.
According to Mr Judge, a member of a firm of auctioneers and estate agents, demand for housing is well in excess of supply at the moment.
They are endeavouring to build the supply up but owing to various difficulties that they've met throughout the last couple of months and years the supply has fallen very badly behind.
The price of housing has increased by around fifteen per cent in the last four or five months.
The builder's point of view is explained by Mr Jennings. Houses on the north side of Dublin are much cheaper than on the south side. There is a greater amount of land available for building on the north side and many essential services such as sewers are already in place. According to Mr Jennings, there is a lot of desirable building land south of the city towards Enniskerry. However, there is no sewer available and therefore the site is undesirable for builders. He believes that it is up to the local authority to make more land available for development. The greater the availability the cheaper the price to builders.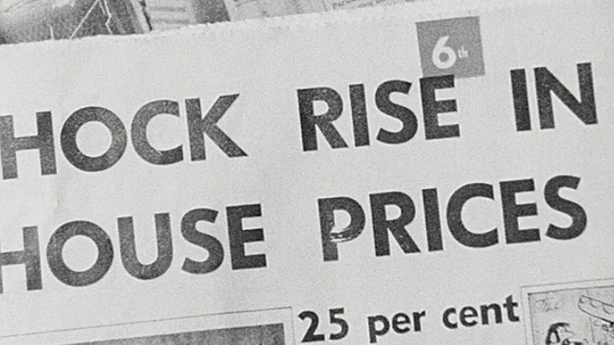 The newly founded House Buyers Protection Association has two hundred members. Louis Cottrell, a founder of the association is attempting to buy his own home. He outlines the challenges he has faced when it comes to financing a mortgage at a time of rising prices.
This episode of 'Enquiry: The Morals of Housing' was broadcast on 3 February 1965.