Some former Blasket residents return to the island where only the ruins of their homes remain.
Former island inhabitants recall their memories of life on the Blaskets off the coast of County Kerry.
The view of the Blaskets from the mainland at Dun Chaoin is the final view for many islanders who have left the islands to emigrate to America.
In 1905 John Millington Synge visited the Blaskets described the Great Blasket as
An island which seemed to rise like a mountain straight out of the sea.
The village on the east side of the island winds its way up towards the brow of the hill and is now deserted with the now abandoned houses built by the Congested Districts Board in 1909. The only cultivated part of the island stretches away from the village to the right.
Each of the fields has its own name.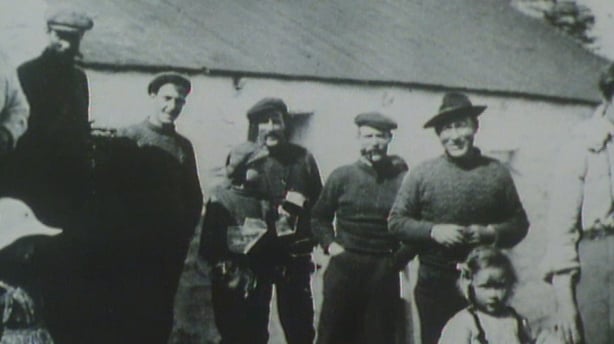 English scholar Robin Flower described the village
The old houses huddled together on the broken hill slope over the cliffs thrown down without system wherever a convenient site offered itself. The steep little tracks run hither and tither between them.
Island native Tomás O'Crohan gives an earlier picture describing the hastily built houses.
An Dáil, the house of Máire Ní Scanláin was where many of the young people of the island gathered each evening for recreation, music, storytelling and song. One woman recalls her memories of the house as a youngster on the island.
Close to An Dáil was one of the village wells, where many islanders gathered particularly the women.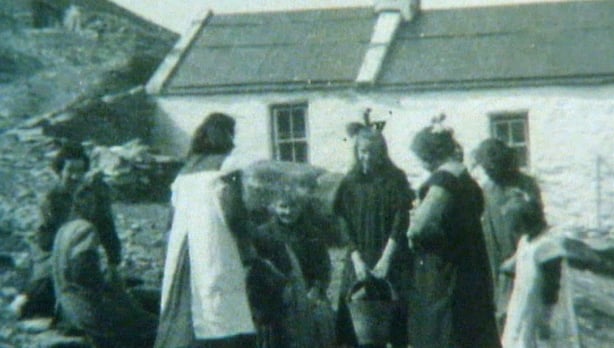 Women at the Blasket Well
Fisherman Seán O'Cathain recalls a happy childhood on the island as one of ten children who are now dispersed in America, England and on the Kerry mainland.
Now they're all gone - and nettles grow wild where we lived.
Another islander was Sean Mhaidhc Lean O Guithin, grandson of Padraig O'Crohan who was known as Rí an Oileann, King of the island. Sean Mhaidhc lived on the island until the age of eleven when the family was transferred off the island.
When John Millington Synge visited the Blaskets in September 1905, he stayed at the King's house. While there, Synge observed closely all aspects of island life and also documented in his visit in the form of a series of photographs. The island and its people also inspired the characters and story in his work 'The Playboy of the Western World'. He also wrote a poem about the King's daughter.
You've plucked a curlew, drawn a hen,
Washed the shirts of seven men,
You've stuffed my pillow, stretched the sheet,
And filled the pan to wash your feet.

'Another Island: Oilean Eile' was broadcast on 6 January 1985. The narrator is Kieron Moore.