The career of singer, actor and musician Liam Clancy of The Clancy Brothers & Tommy Makem.
The youngest of eleven children, Liam Clancy was born in Carrick-on-Suir in 1935, and dreamed of a life on the stage. Having met the folk song collector Diane Hamilton Guggenheim, he travelled to the United States with her.
Two of his brothers, Paddy and Tom had already emigrated there, and the three of them began performing with the Armagh singer Tommy Makem. Playing legendary such as the White Horse Tavern in New York where they wore,
Their trademark Aran jumpers, sent by Mrs Clancy to protect against the hard US winters.
International stardom followed an appearance on The Ed Sullivan Show in 1961 changing their lives forever.
Your life is twisted around, and everything all happened together.
Central figures in the folk revival of the 1960s, The Clancy Brothers & Tommy Makem reworked traditional ballads for the international and Irish audience. Liam Clancy was described by Bob Dylan as,
Just the best ballad singer I'd ever heard in my life, and still is probably.
The Clancys eventually went their separate ways, and Liam pursued a highly successful solo career. He reunited with Makem in 1976 and the two performed as Makem and Clancy for thirteen years before deciding to call it a day.
The quartet performed together again in 1984 when they were filmed for a documentary and reunion concert in New York and a tour of Ireland, England and the United States.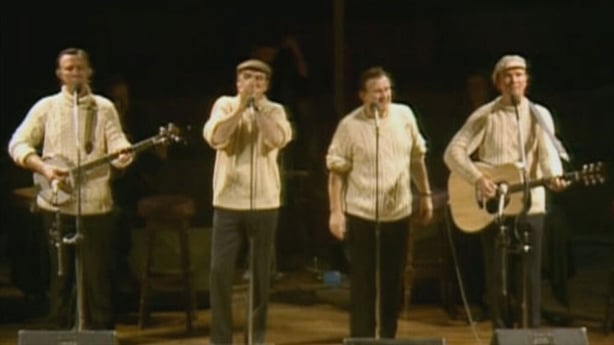 The Clancy Brothers and Tommy Makem (1984)
Liam Clancy settled in An Rinn County Waterford with his wife Kim and their family, and continued performing as a solo artist.
His autobiography 'The Mountain of the Women' was published in 2002 and a documentary film on his life 'The Yellow Bittern' was released in 2009.
An RTÉ News report broadcast on 4 December 2009. The reporter is Sinéad Crowley.