Folk musician Tommy Makem has died at the age of 74 in New Hampshire.
Born in 1932 and raised in Keady, County Armagh, he was the son of legendary song collector Sarah Makem, and is best known for his time with the Clancy Brothers.
Having emigrated to the USA as a young man, and trying to make it as an actor, he and his friend Liam Clancy, with Clancy's brothers Tommy and Paddy, decided to form a band singing Irish ballads and folk songs,
I remember we had a mass meeting, one time, the four of us, to decide if we were going to go ahead with this singing lark, or go back to our proper jobs in the theatre. So we decided to give this singing thing six months.
It was 1961, and folk music was 'in'. Along with stars such as Joan Baez and Bob Dylan, the Clancy Brothers and Tommy Makem went from audiences in small clubs to 80 million on The Ed Sullivan Show. They played for presidents, and outsold Elvis Presley in 1964.
The Clancys' mother, having heard about the harsh New York winters, sent four knitted Aran sweaters to keep her boys warm, and this became their trademark. They performed traditional Irish songs, but in a new way, with gusto, humour, and pride.
Tommy Makem's lifelong friend Liam Clancy remembers the momentous impact that their music had on the world,
Four Irish guys, from small-town Ireland made it onto the television screens of 80 million people in America. That, as somebody said to me later, 'You opened a door where nobody knew a door existed'.
But it wasn't all about making Irish traditional music popular with the masses. They heralded a new confidence in Irish culture, as Makem's nephew Peter explains,
He and Liam and Paddy and Tom, the boys, had the self-confidence to say what we have is important, and we are not afraid to expose this to the world, our great culture. And that is the ultimate lesson that he gave to Ireland, and we're proud that it came from the roots here, in south Armagh.
Tommy Makem died of lung cancer in Dover, New Hampshire, on 1 August 2007.
An RTÉ News report broadcast on 2 August 2007. The reporter is Flor McCarthy.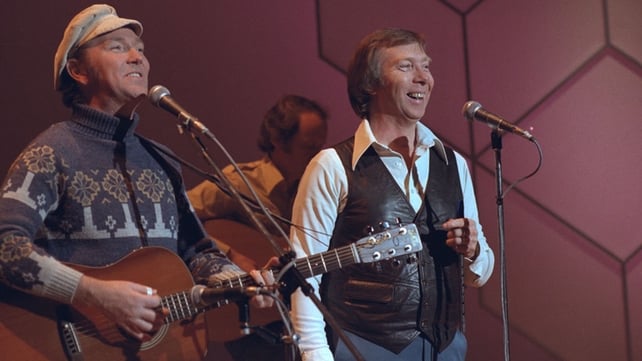 Liam Clancy and Tommy Makem on 'The Late Late Show' 6 December 1980.
The photographer is Des Gaffney.