A glittering occasion for opera lovers at the opening of the newly extended Wexford Opera Festival.
This year the festival has been extended from twelve to eighteen nights. The opening night saw a performance of Der Templer und die Jüdin by Heinrich Marschner at the Wexford Opera House.
After an eleven year absence, the Opera Train is back with many festival goers delighted to see its return.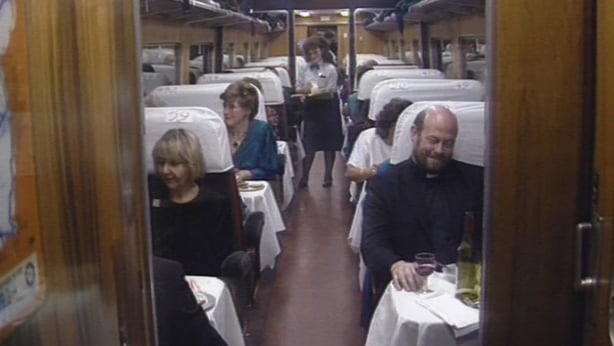 Wexford Opera Festival Train (1989)
Another opera lover who attends the festival each year describes how it has contributed to the growth of the town of Wexford over the years.
We just look forward to it and nothing would allow us to miss it.
Managing Director of Wexford Opera Festival Jerome Hynes describes how international interest in the festival has grown with media representatives from Canada, the USA, France and the UK in attendance.
We're looking forward to eighteen splendid days of activities here in Wexford.
Artistic Director Elaine Padmore is delighted with the first night's performance having faced some last minute challenges with replacement singers.
An RTÉ News report broadcast on 27 October 1989. The reporter is Kevin McDonald.